Exclusive…
A document obtained yesterday by the Ministry of Truth exposes the full but hitherto hidden agenda behind Nadine Dorries' 'Right to know' campaign, which has recently put forward two abortion-related amendments to the Government's Health and Social Care Bill.
The document, a Powerpoint presentation produced by Dr Peter Saunders of the Christian Medical Fellowship for the Lawyers Christian Fellowship in 2007, indicates that Dorries' current campaign and amendments are part of long-term strategy put together by an alliance of prominent anti-abortion organisations with the overall objective of securing the complete prohibition of abortion in the UK on any grounds, including rape, serious foetal abnormality and even serious risk to the life of mother.
Clear and verifiable links exist between Dorries and at least three of the organisations involved in the development of this campaign strategy, one of which – the Lawyers Christian Fellowship – was intimately involved in the running of Dorries' earlier '20 reasons for 20 weeks' campaign.
Another member of this alliance – CARE (Christian Action Research and Education) would, in all likelihood, be the major beneficiary of the first of Dorries' new amendments, which seeks to prevent established abortion service providers, including the British Pregnancy Advisory Service and Marie Stopes International, from providing pre-abortion counselling, forcing women into the independent sector which has been heavily infiltrated by anti-abortion organisations. CARE has well documented links with a number of other current MPs, to whom it provides bursaries and/or interns, and with the influential Conservative Christian Fellowship, which was co-founded in 1990 by Tim Montgomerie, who is also the co-founded of Iain Duncan Smith's Centre for Social Justice and the editor of ConservativeHome website.
Alive and Kicking – The Hidden Agenda
The presentation, which dates from January 2007, sets out the full campaign agenda of the now mothballed 'Alive and Kicking' campaign, which gained significant media attention in 2008 when it launched a website which claimed that it would 'name and shame' pro-choice MPs in the run in to a series of votes of amendments to what was, at the time, the Human Fertilisation and Embryology (HF&E) Bill, which sought to reduce the upper time limit for legal abortions.
In public, the campaign was always extremely caution is stating its objectives. In 2005, for example, the Telegraph reported that it was lobbying for a reduction in the upper time limit for legal abortion from 24 weeks to 18 weeks gestation. And in launching its campaign in 2008, ahead of parliament's deliberations on the HF&E Bill, it set out its campaign objectives as follows:
With The Human Fertilization and Embryology Bill about to be debated in the House of Commons, the Alliance aims are:

– A substantial lowering of the upper limit of 24 weeks for abortion

– An end to discriminatory abortion up until birth for disabled babies

– Fully informed consent for women contemplating abortion
Privately, as indicated by slides 53 and 54 of Saunders' presentation, the campaign was pursuing a far more expansive set of objectives, the full extent of which has been carefully concealed from the public (until know) in the knowledge that opinion polls stretching back of a number of years show that a mere 9% of the British public would support the campaign's real agenda:
[Slide 53]

Alive and Kicking

Aims and goals

– Our near-term objective is to halve the yearly abortions from 200,000 to 100,000 per year

[Slide 54]

Alive and Kicking Aims

– An immediate, substantial reduction in the upper age limit for abortion.

– Eliminating discriminatory abortion of disabled babies up to birth.

– Proper enforcement of the abortion law as originally intended.

– A prohibition of abortions for social convenience.

– A Charter of Informed Consent drawn up to ensure women are made aware of medical and psychological risks associated with abortion.

– A cooling-off period between diagnosis of pregnancy and access to abortion.

– Provision of compassionate alternatives to abortion

– Increasing support for families with disabled children

– Guaranteed regular reviews of the abortion law.
During its passage through parliament and into law, a slew of amendments to the Bill were tabled by anti-abortion MPs which clearly sought to implement significant elements of this set of objectives.
Dorries personally sponsored amendments which had they not been rejected would have:
– reduced the upper time limit for legal abortions to 20 weeks,
– reduced the number of doctors required to sign off an abortion request to one, during the first trimester, while increasing the number to three for abortions taking place after 24 weeks on grounds of foetal abnormality or other serious medical grounds.
– prevented abortions being carried out after the upper time limit for a number of common foetal abnormalities (UK law permits abortions to carried out up to birth in case of serious foetal abnormality), and
– committed parliament to convene a joint committee of both Houses (Commons and Lords) to undertake a review of abortion law and practice within two years of the Bill receiving the Royal Assent and passing into law.
It was then left to other MPs to table a range of amendments with the aim of implementing other aspects of Alive and Kicking's overall strategy including a series of amendments which, amongst other things, aimed to:
– reduce the upper time limit for abortion to one of 12, 14, 16 or 18 weeks,
– introduction of mandatory counselling and 'informed consent' requirements plus a seven day 'cooling-off' period for women requesting an abortion,
-a requirement that one of the two doctors that a currently required to sign off a request for an abortion should be a 'mental health expert' (i.e. psychiatrist), and
– prohibit any abortions being carried out after 24 weeks on grounds of foetal impairment.
These amendments were not, however, Dorries first attempt to amend the UK's abortion laws.
In October 2006, a mere three month before the 'last modified' date on Peter Saunders' presentation, Dorries tabled a 10 minute rule Bill (not a private members bill) which sought both a reduction in the upper time (to 21 weeks) and the imposition of mandatory counselling and a 10 day cooling off period.
Of Alive and Kicking's seven primary aims which would require amendments to current abortion legislation (i.e. excluding provision for 'compassionate alternatives' to abortion and increased support for families with disabled children) only that of the prohibition of abortions for 'social convenience' has not been directly address by abortion-related amendments tabled during the last parliament.
That said, had anti-abortion MPs been successful in inserting a psychiatrist into the pre-abortion assessment process during the passage of the HF&E Bill this would undoubtedly have been followed up with further legislation that would require women requesting an abortion to undergo a full psychiatric assessment before their request could be approved, which for most women would amount to the wholesale prohibition of abortion.
As worrying as the content of these two slights might be, even they do not fully reveal the full extent to which the Alive and Kicking Campaign, and its member organisations, would wish to prevent women gaining access to legal abortions in the UK. To fully understand how far this campaign really wished to go it is necessary to consider the content of three slides (45-47) which set out the campaign's view on abortions sought in relation to pregnancies resulting from rape, foetal abnormalities and situations in which continuation of a pregnancy would put the life of the woman at risk:
[Slide 45]

What about abortion for rape?

Rape is an extremely serious crime but…

Pregnancy following rape is extremely rare and far less than 1% of abortions are performed following alleged rape

Rape sacrifices a second innocent victim (Should the baby die for the crime of its father?)

In the only major study of pregnant rape victims ever done, 75 to 85% chose against abortion
The 'major study' referred to here was conducted in the late 1970s by Dr Sandra Makhorn and it widely cited by American anti-abortionist, often in complete ignorance of the facts.
It was based on only 37 women and was not published in a peer-reviewed journal. It does appear in print twice as chapters in books written and edited by known anti-abortion authors Thomas W Hilgers, David Mall and Dennis J Horan. Hilgers is the founder of the 'Pope Paul VI Institute for the Study of Human Reproduction' which promotes 'natural fertility regulation'.
As might be expected, from long experience of the anti-abortionist approach to evidence, Makhorn's 'paper' is not the only major study of pregnant rape victims.
In 1996, the American Journal of Obstetrics and Gynaecology published a study by Holmes et al which obtained its data from the three-year longitudinal survey of a national probability sample of 4,008 women and, as might also be expected, the results of this study, which was published in a peer-reviewed journal, differed markedly from those claimed by Makhorn:
RESULTS: The national rape-related pregnancy rate is 5.0% per rape among victims of reproductive age (aged 12 to 45); among adult women an estimated 32,101 pregnancies result from rape each year. Among 34 cases of rape-related pregnancy, the majority occurred among adolescents and resulted from assault by a known, often related perpetrator. Only 11.7% of these victims received immediate medical attention after the assault, and 47.1% received no medical attention related to the rape. A total 32.4% of these victims did not discover they were pregnant until they had already entered the second trimester; 32.2% opted to keep the infant whereas 50% underwent abortion and 5.9% placed the infant for adoption; an additional 11.8% had spontaneous abortion.
Moving on to slides 46 and 47:
[Slide 46]

What about abortion for fetal handicap?

Fetal handicap accounts for far less than 1% of all UK abortions

It now extends to viable children with remediable conditions (eg cleft palate)

Over 450 Down's syndrome children (over half the total) are now aborted annually

Why do we tolerate destruction of children with special needs before but not after birth?

[Slide 47]

What about abortion to save the life of the mother?

Only 0.013% of UK abortions are performed 'to save the life of the mother'

There are no medical circumstances justifying direct abortion, that is, no circumstances in which the life of the mother may only be saved by directly terminating the life of her unborn child'. (Irish obstetricians, 1992)

Of 21 maternal deaths among 74,317 pregnancies at the National Maternity Hospital in Dublin from 1970-1979, abortion wouldn't have saved the mother's life in a single case
Clearly there's an overriding need to send a research team to the Irish Republic as it appears to be only country in the world with a zero incidence of ectopic pregnancy, or it could be that Saunders is merely splitting hairs in order to deny the existence of situations in which an abortion is necessary to prevent women coming to serious harm as a consequence of continuing their pregnancy, not just directly but also indirectly as can arise if a woman is diagnosed as having an aggressive cancer while pregnant to the extent that treatment cannot reasonably be deferred until the pregnancy reaches term with serious risk to the health of the woman.
In marshalling its arguments against permitting abortions where pregnancy arises as a consequence of rape, foetal abnormality and serious risk to a pregnant woman's health it seems evidence that even the total prohibition of abortion for social reasons would not be enough for this campaign and its members. What they are really seeking is not less than the total prohibition of abortion on any grounds, with only possible exemption being cases of incest, this being the only issue that the presentation does not explicitly touch on.
Getting back to Dorries and her current 'Right to Know' campaign, slides 48-51 are particularly relevant for what they reveal about the campaign's political strategy:
[Slide 48]

The middle way (John 8:1-11)

– Prevention of unplanned pregnancy

– Legal protection for the baby

– Care for the mother (CARE Centres Network)

– Promotion of adoption
This slide noticeably make a direct reference to CARE's network of so-called 'crisis pregnancy centres', which operate under the collective banner of 'CareConfidential'. It is to this network of Christian-run, anti-abortion organisations that many women we be force to turn for pre-abortion counselling were Dorries successful in prohibiting BPAS and Marie Stopes International from providing this essential component of the existing abortion service.
[Slide 49]

Legal protection for the baby

– Dangers of making things worse (1991)

– Problems with a change solely aimed at bringing down upper limit

– Impossibility of an all or nothing approach (Poland and South Dakota)
The reference to 'making things worse' refers directly to legislative amendments which came into effect in that year as part of the Human Fertilisation and Embryology Act 1990, which reduced the upper time limit for most abortions to 24 weeks, from 28 weeks, but also removed a number of restrictions on abortions carried out after the 24 week limit in cases of risk to life, foetal abnormality, or grave physical and mental injury to the woman.
Of particular relevance here, however, is the reference to the impossibility of following after Poland and South Dakota, both of which had introduced law prohibiting abortion in all but 'extreme' circumstances. Poland currently permits abortions to be carried out if the woman's life is at risk, while South Dakota restricted abortions to women at serious risk of death and cases of incest/rape.
Poland's draconian laws are, today, still in effect and have done little more than create a market for abortion tourism across Eastern Europe, with the Ukraine's Black Sea coastal region being a particular favoured destination for women looking get away from it all. As for South Dakota, its abortion law, which came into effect in March 2006, failed to see out the year and was repealed by a ballot measure put forward at the State's November 2006 election.
What this proves, if proof were needed, is that Britain's anti-abortion lobby is perfectly aware of the fact that they do not command any significant public support for their full agenda, the complete or near complete prohibition of abortion. This is why these organisations have consciously adopted a strategy of seeking to nibble away at the edges of the UK's current laws and abortion provision while both concealing their own full objectives and, increasingly, by operating through front organisations and individuals, like Dorries, who falsely claim to be independent of this well-established anti-abortion lobby.
[Slide 50]

Bringing about legal change

Broad coalitions (Alive and Kicking)

Prime focus on changing public opinion

Specific legal interventions (upper limit for handicap, separating psych and physical indications, accurate recording of complications)

Changing medical opinion – guidance of RCOG and RCPsych on psychological effects of abortion and resuscitation guidelines

[Slide 51]

Specific opportunities

Private members' ballot

40th anniversary of Abortion Act October 2007
In these slides we see precisely where Dorries' current campaign and amendments fit into the anti-abortion lobby's overall strategy.
Dorries' first amendment, which would prevent abortion service providers from offering pre-abortion counselling, would also have the secondary effect of beginning the process of separating psychiatric indications from physical indications when evaluating the legal grounds under which a request for abortion have been made before giving the procedure the go-ahead.
Dorries' second amendment directly addresses the anti-abortion lobby's failure to change medical opinion and, in particular, secure changes in the guidelines for the provision of abortion services issued by the RCOG, the Royal College of Obstetricians and Gynaecologists, but actively seeking to take RCOG out of the loop entirely, transferring responsibility for these guidelines to NICE (National Institute for Health and Clinical Excellence), which operates a much wider stakeholder-based consultation model that anti-abortion organisations currently believe will be much easier to influence.
This is no mere coincidence, of course, but rather part of ongoing pattern of activity on Dorries' part, all of which is connected one way or another to the campaign objectives and strategy set out in this presentation.
There is one further piece of evidence from this presentation which strongly supports the view that, contrary to her public claims of being both pro-choice and pro-women, she is in fact operating to the 'script' set out by Peter Saunders in this presentation.
This evidence comes from a comment made by Dorries at the Spectator's Coffeehouse website in 2007, under an article Dorries' authored entitled 'Abortion lobby on the back foot'. The article, itself, has since fallen down the internet's memory hole but can still be viewed in Google's cache, from which the following screenshot of Dorries' actual comment was taken: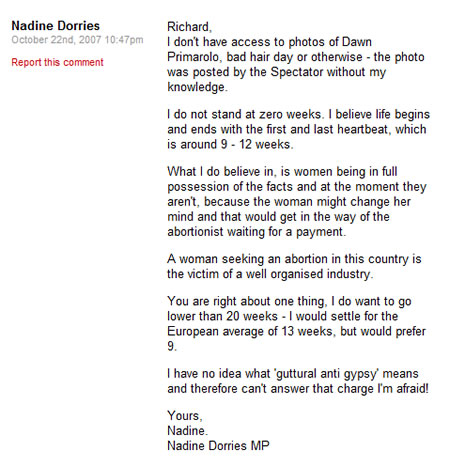 As can be seen, Dorries clearly admits to favouring an upper limit for abortions of just nine weeks.
Her claim that the European average is only 13 weeks is, by the way, entirely incorrect – this is the average time limit for abortions provided on request and without the need for specific medical grounds. Unlike the UK, most European countries require evidence of a medical or psychiatric need for an abortion only after the first trimester (12-13 weeks), with most having an actual upper limit of between 18 and 22 weeks.
What has never been entirely clear is precisely why Dorries favours nine weeks, a figure that has significance under current abortion laws only as the upper time limit for the use of abortifactant drugs such as Mifepristone (RU486).
The answer to this minor conundrum is to be found in slide 53 and the Alive and Kicking campaigns near-term objective of halving the annual number of abortions carrying out in the UK to just 100,000. At the time the presentation was produced (January 2007) the most recently published abortion statistics for England and Wales (covering 2005) put the number of abortions conducted before 9 weeks gestation at exactly 99,934. Dorries' preferred 9 week limit would, at the time she posted that comment, have produced precisely the fall in the annual number of abortions targeted by the Alive and Kicking campaign.
Alive and Kicking's membership and its links to Nadine Dorries and other MPs
There are already altogether far too many 'coincidences' between Dorries' campaigning activities over the last five year and the contents of Peter Saunders presentation to plausibly sustain the fiction that Dorries is somehow operating independently of the UK's highly organised anti-abortion lobby, the active membership which consisted (at January 2007) of the following organisations:
– CARE (Christian Action Research and Education)
– Christian Medical Fellowship
– Comment on Reproductive Ethics
– Evangelical Alliance
– Guild of Catholic Doctors
– Lawyers' Christian Fellowship
– LIFE
– ProLife Alliance
– Student LifeNet
Of these organisations, three are of particular interest and relevance for their links to Nadine Dorries and/or other MPs:
1. Lawyers Christian Fellowship
At the time that the presentation was produced, the LCF's policy director was Andrea Minichiello Williams, who can be seen her, in a Channel 4 Dispatches documentary which aired in May 2008, working directly with Nadine Dorries on her failed '20 weeks' campaign:
[youtube]http://www.youtube.com/watch?v=E8l7eJv8pB0[/youtube]
Williams' current organisation, Christian Concern (formerly Christian Concern for Our Nation) emerged originally as a side project/offshoot of the LCF and became an independent organisation in June 2008, headed by Williams and another escapee from the LCF, Mark Mullins. Mullins, a barrister, was reprimanded by the Bar Council in July 2006 after he refused to represent a gay client.
Williams is also a director of the Christian Legal Centre which has been behind the recent spate of 'religilitigation' in which various Christians have sought to use discrimination and human rights law in an effort to establish, amongst other things, a right to proselytise in the workplace and a right to discriminate against members of the LGBT community on religious grounds.
Peter Saunders' 2007 presentation on the aims and objectives of the Alive and Kicking campaign was produced for the Lawyers' Christian Fellowship and was obtained, via a Google search, from the uploads folder of LCF's website, although it appears never to have been openly published on the site itself.
2. Christian Medical Fellowship
The Christian Medical Fellowship is a headed up by Dr Peter Saunders, a former general surgeon.
Together with his CMF colleague, Dr Andrew Fergusson, a former GP, Saunders's organisation is the anti-abortion lobby's primary UK-based source of clinical and research information relating to abortion, most of which is biased, misleadingly presented out of context or simply derived from dubious sources, such as David Reardon of the Elliot Institute.
Saunders is the author of the Alive and Kicking presentation and is currently leading the public criticism of the Royal College of Obstetricians and Gynaecologists.
In 2010, Saunders was an invited speaker at a small prayer vigil held at the Old Palace Yard, opposite parliament, to mark the 43rd anniversary of the passing of the Abortion Act. According to the Choose Life campaign's website, other speakers at the vigil included both Nadine Dorries and Andrea Minichiello Williams.
Vigil in Westminster
Over 100 people gathered in Old Palace Yard, opposite Parliament, to take part in a special vigil timed to coincide with Prime Minister's Questions at 12 noon. Times of silent prayer and reflection were interspersed with contributions from various speakers including Peter Saunders (Christian Medical Fellowship), Alan Craig (Christian People's Alliance), Nadine Dorries MP and Andrea Minichiello Williams. Particular attention was drawn to the fact that since the passing of the Abortion Act over 7,000,000 babies have been aborted, with more than 200,000 abortions taking place last year alone (the latter statistic also being highlighted by a bus advertising campaign, undertaken by 'Choose Life').
3. CARE (Christian Action Research and Education)
CARE operates, amongst other thing, a national network of 153 Christian-run 'crisis pregnancy centres' under the brand name 'CareConfidential', together with a national telephone helpline and a website which boasts of having been SEO optimised during 2009/10. The CareConfidential website currently occupies the first two listing in Google for 'abortion counselling', above both the BPAS and Marie Stopes International, but does not openly acknowledge the hard-line anti-abortion stance of its parent organisation or even its relationship with CARE, save a for single reference to CARE's registered company and  charity numbers on its 'about us' page.
It seems reasonable to think that the CareConfidential network would be one of main beneficiaries of any amendment to UK abortion law which served to prevent the BPAS and Marie Stopes International from providing pre-abortion counselling. In fact, it seems entirely reasonable to think that, in view the contents of the Alive and Kicking presentation, this is actual the purpose of the amendment, irrespective of any claims to the contrary made by its sponsors, Nadine Dorries and Frank Field.
CARE's own website currently makes little or no mention of its views on abortion.
CARE currently provides interns* to a number of serving MPs including David Burrowes, co-founder of the Conservative Christian Fellowship (with Tim Montgomerie of ConservativeHome), Sharon Hodgson, Fiona Bruce (not the newsreader), Andrew Selous, Gavin Shuker and Gary Streeter.
*See current Register of Interests of Member's Secretaries
At the time of writing, only Fiona Bruce is listed alongside Nadine Dorries and Frank Field as a signatory to a recent EDM criticising RCOG's consultation process on its draft guidelines on the provision of abortion services – despite the fact that the organisation followed its usual consultation process for specialist clinical guidance – but its early days yet.
Conclusion
Based on the contents of the presentation, there can be no doubt whatsoever that small, close-knit and unrepresentative alliance of anti-abortion organisations is actively pursuing a covert strategy of seeking chip away at the UK's existing abortion laws with the ultimate objective of obtaining the outright prohibition of abortion in any circumstances, including rape, foetal abnormality and serious risk to the life of pregnant women.
It is also clearly the case that a number of serving MPs have been co-opted to this particular cause and have been actively working to pursue the Alive and Kicking campaigns hidden agenda inside parliament and that, despite all her claims to the contrary, Nadine Dorries is one of those MPs, although in Dorries case it less a matter of working with these organisations and rather more a matter of her being worked by this organisation in the manner of a ventriloquist's dummy.
Disclaimer
The 2007 presentation referred to in this article was obtained by entirely legal means from the website of the Lawyers' Christian Fellowship. Extracts from the presentation are provided here without the express permission of the LCF or Dr Peter Saunders for the purpose of news reporting, research and criticism.