The announcement of this year's shortlist for the annual BBC Sports Personality of the Year Award has caused a few raised eyebrows due to the distinct lack of female nominees.
It's also, according to the Guardian, provoked a 'widespread backlash' although, presentationally speaking, their coverage seems rather lacklustre and, unfortunately, rather creates the impression that the paper's working definition of a 'widepsread backlash' amounts to little more than half-a-dozen sportswomen and female sports presenters having a bit of moan on Twitter.
The question is, is this just a bit of freak occurence, which seems to the be the BBC's line, or does it tell us something more generally about the perceived status of women's sport in Britain and, luckily enough, we have some data through which we can try to answer that question.
What I've pulled together is an almost complete list of the top three sports personalities for every years of these awards since the first such award was given in 1954. I say almost complete as, for reasons that are entirly unclear, all records of the second and third places sportsmen/women for the years 1955 to 1957 appear to have been lost, even by the BBC, but that still gives us 167 items of data (includes multiple and joint nominations) to play with, spanning more than half a century.
So, getting down to basics, of the 58 past winners of the main award, just 13 (22.4%) were female (including Jayne Torvill who won the award jointly with Christopher Dean in 1984). Widening the figures out to secind and third place finishers, the male to female ratio is 129 – 36, which mean that sportwomen are doing slightly better (28%) if we take the top three places into account.
So, at the most basic level, women are in the minority when it comes to finishing in the top three places, but there is a little more to the picture than just the basic gender divide, as quickly becomes apparent when you look at a breakdown of nominees by sport: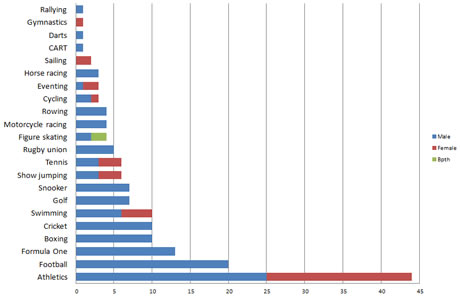 In terms of both nominations (44) and winners (17), athletics leads the way by some distance from football and Formula 1 motor racing, although F1 does beat football, 6-5, when it comes to outright winners.
Of the 21 sports that have enjoyed one or more top three finishes, 12 have been exclusively male preserves, including all the major team sports (football, cricket and rugby union) and and all the motorsports categories (F1, CART and Motorcycle racing, which also includes Speedway).
In sports where women have gained recognition in these awards, they've outperformed their male counterparts in both sailing and eventing, although these could be consider special cases as sailing only top three finishes have come courtesy Ellen McArthur while two of the three successes for eventing (both outright wins) came courtesy of members of the royal family (Princess Anne and her daughter, Zara Phillips). A woman (Beth Tweddle) also accounts for gymnastics' sole success in 57 years.
In the sports of tennis and showjumping there's an even male-female split while female swimmers and track and field altheles account for 40% and 43% of successes gained by their respective sports, so its only in the sports of cycling and figure skating (both 33%) that women lag behind men.
The good news is in sport where women do succeed in building a significant public profile, the public – whose votes decide this award – seem to be more than happy to recognise their achievements.
The bad news is that is that, in order to build that kind of profile, women have to be competing in sporting events either against or alongside men.
Almost all the female successes have come from sports in which both women and men compete on equal terms (eventing and showjumping) or sports in which the major championship events/tournaments include single sex competitions for both sexes. Tennis's four major tournaments – Wimbledon and the US, French and Australian Opens are all integrated, in the sense of featuring both mens and women's championships at the same events, while the recognition given to other sports in which women have historically done well, in terms of these awards, stems to a considerable from their inclusion in large-scale multi-event competitions, i.e. the Olympic and Commonewealth Games, World Athletics Championships.
In sports where women's competitions are segregated not in terms of participation but also scheduling, such as football's Women's World Cup, those competitions might just as well not exists for all that they have, historically, managed to capture the public's attention and interest at a scale anywhere near that of the men's game. So the lesson here may well be that in some case, and women's football springs to mind, the current practice of scheduling the sport's major international tournaments away well from the men's game, in the hope of picking up footie-starved viewers, may not be right approach. On the evidence here, the sport may have much more to gain, in terms of raising its profile, were it to integrate its own World Cup tournament into the FIFA World Cup, in terms of scheduling, venues, etc. as this may deliver a larger audience and better opportunities for securing sponsorship and TV coverage.
There are, however, two exceptions to this general rule, both of while provide an interesting slant on this relationship between men's and women's sport.
The most recent of Ellen McArthur's two second place finishes (2005) came in the year that she broke the world record for the fastest solo circumnavigation of the globe, taking a record that had previously been the exclusive preserve of male yachtsmen. Similarly, cycling's only female top three finisher to date, Beryl Bainbridge, took second place in the 1967 awards after setting a new 12 hour time trial distance record of 277.25. In the process, Bainbridge caught and passed Mike McNamara who, at that same event, went on to set a new men's record of 276.52 miles, three-quarters of a mile less than Bainbridge, who reputedly also found time to pass McNamara a liqourice allshort and she rode past.
So, the other way of gaining recognition seems to be that beating men at 'their own game', although neither McArthur or Bainbridge managed to win the main award – McArthur lost out to Andrew Flintoff and an England Ashes win in what was the most competitive and exciting test series for many years, while Bainbridge to Henry Cooper in a year in which he went unbeaten.
Interesting as this is, it does not directly addresses the question of whether or not this year's women-free shortlist is nothing more than a bit of an anomaly. To start to get a handle on that question we need to look at how women have fared over time with a graph which shows the number of sportwomen who did make the top three for each year of these awards:

Straight away we can see that only once, in 57 years, have women taken all of the top three places – the 1962 award was won by swimmer Anita Lonsbrough (2 Gold, 1 Silver in Commonwealth Games, 1 Gold, 1 Silver and 1 Bronze in Europeam Swimming Championships) beating athlete Dorothy Hyman and fellow swimmer Linda Ludgrove into seccond and third place.
Women have also take two of the top three places on three occasions, 1964, 2000 and 2006, the latter being the only occasion on which both women were honoured for successes which took place outside a major multi-event setting – Zara Phillips won the award after taking individual gold at eventing's World Championship while Beth Tweddle took third place on the back of single discipline golds at both the World and European Championships.
Overall, the 1960s and 2000s were good decades for women's sport in these awards – the only time a woman failed to make the top three during the 60s was, perhaps unsurprisingly, 1966, where the little matter of England winning the World Cup on home soil rather skewed the results, with England captain Booby Moore taking top spot with Geoff Hurst in third place.
A similar pattern can be seen in relation to the 'noughties', with the only blank year being 2007. This was, like 1966, a year in which two of the top three spot went to a single sport, in this case boxing, as Joe Calzaghe took the main award with Ricky Hatton taking third place.
By way of a complete contrast, the 1970's, 80's and 90's were something of a wasteland for women's sport at these awards. In the 25 years between 1972 and 1997 only five women made the top three; Virginia Wade, Jayne Torvill (twice), Fatima Whitbread (twice), Liz McColgan and Sally Gunnell (three times), all of which seems to rather neatly reflect the limited range of sports, and sporting events, from which women have, historically, found it possible to gain major recognition.
And that, to be perfectly honest, seems to be the real story behind the absence of women from year's shortlist, more so than any kind of overt sexism on the part of those making the nominations.
2011 has not been a vintage year for women in any of the sports in which, historically, they have been able to gain significant public recognition.
Had she successfully defended her world title in Daegu, Jessica Ennis would undoubtedly have made this shortlist, but she didn't and, so, she didn't and both Ennis and the women's team, generally, were heavily overshadowed by the success of Dai Green and Mo Farah.
Rebecca Adlington did win the gold medla in 800m freestyle but, realistically, swimming remains very much a minority sport, in terms of media attention and coverage, outside the multi-event games, i.e. Olympics and Commonwealth Games, which explains why none of Britain's three gold medalists at this year's World Aquatics Championships (including women's open water champion, Keri-Anne Payne) made the shortlist.
Showjumping has pretty much fallen off the face of the planet so far as TV coverage of the sport goes and although eventing gets some coverage, 2011 was not a World Championship year in equestrianism, leaving these sports with an even lower profile than usual.
And leaves us only to consider tennis, a sport in which women did pretty well in the 1960s and early-to-mid 1970s but which is now a sport in which the British viewing public are pathetically grateful should any female British tennis player survive past the first Wednesday of Wimbledon.
To ascribe this year's all-male shortlist as the product of 'in-built sexist thinking', largely – it seems – on the back of the editors of Nuts and Zoo taking part in the nominations process is rather to the miss the point.
If outright success is to be considered to be the main criteria on which nominations for these awards should be based, which seems to be the case as much of the general carping over specific nominees has been directed towards the inclusion of Andy Murray who, again, failed to win any of tennis's four majors, then its perhaps worth pointing out that Britain currrently has no less than 13 world champions in Triathlon at different distances, 8 of whom are women, of which only Chrissie Wellington has been making the varous lists of alternative nominees.
There is much deeper issue here. Every year there are a clutch of British sportsmen, and sportswomen, whose achievements are relegated to the three-minute 'and in other sports' pictorial round-up that typically comes just before they put on the sombre music and list all the year's dead people. There is, sadly, a more general prejudice against a wide range of minority sports within which women, in particular, lose out because far more of their sports are regarded as falling into that general category, so far as the media are concerned.
I should perhaps say, here, that although I'm by no means a follower of triathlon, I do think that Chrissie Wellington should have made the BBC's shortlist this year, not least because she brings two world records to the table in addition to her victory in the Ironman World Championship, this being the mode demanding of all the standard triathlon competitions, but then I also think that Alistair Brownlee was another good shout after racking up five straight wins, including the European and World titles.
The irony in all this is that next year, the shortlist is likely to look very different for the simple reason that its an Olympic year and therefore the one year in every four that many of the sports represented in Andy Bull's list of alternative female nominees will receive a bit of halfway decent TV coverage. What the history of the awards, since the 1960's, strongly suggests is that the only thing that may stand in the way of next year's winner being an Olympic gold medalist, is a British winner of the Formula 1 title – since 1964 only three non-Olympians have won the main award in an Olympic year; Steve Davis, Nigel Mansell and Damon Hill, and as snooker is nothing like as popular as it was duting the 1980's, I think we can rule out the possibility of a winner from that sport.
The only other wildcard, next year, is the possibility of the England football team breaking the habit of lifetime and winning the European Championship, but otherwise its a pretty safe bet that the 2012 award will go to an Olympic champion and, unless there's a multiple gold medallist in another sport, to a gold medallist in a track and field event.
After all, I think we can answer the question of whether sexism accounts for the lack of female nominees this year and the answer is directly, no, but indirectly, most definitely.
What we have this year is a fairly unspectacular year for British women in sport which have traditionally provided them with the most success – and before anyone starts with the 'what about Rebecca Adlington?', the answer to that is what about Liam Tancock, who also took gold, for the second successive time, in the 50m backstroke at the World Aquatics Championships. Is he any less deserving of a nomination than Adlington and, if so, why?
At the same time, British sportsmen have done unusually well in sports which have a much higher public profile. Golf has provided two British winners of major tournaments and a World number 1, while England's cricket team won two test series and ended the year as World number one in the test match rankings. These two sports, alone, provide five of this year's ten nominees and by the time you've added Britian's two athletics world champions, Dai Green and Mo Farah, and cyclist. Mark Cavendish, who's the current Road World Champion and the first British rider to win the points race in the Tour De France, there's just not a long of room left into which you could try to shoehorn a couple of nominees from sports/events which barely get any significant media coverage outside of the Olympic or Commonwealth Games.
This year is something of an anomaly, and really it's daft to lay the blame for the lack of female nominees at the door of the two lad's mags that were involved in drawing up the shortlist when, as this graph showing all the nominations indicates, nine of the ten final nominees were pretty well ahead of the field with the actual ninth spot going to Luke Donald (golf's current world number 0ne) leaving only one place up for grabs for the rest of the field.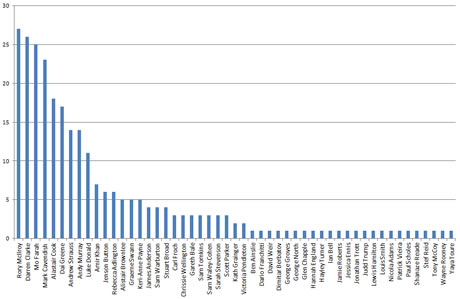 Incidentally, of the three newspapers/magazines that have been singled out for criticism for putting up all male shortlists, Metro's list of nominees is actually identically to the final shortlist, Nuts chose James anderson over both Strauss and Cook as its cricketing nominee and also left out Dai Green and Luke Donald in favour boxer Calr Froch, footballer Scott Parker and, interestingly, Alistair Brownlee. As for Zoo, their list omitted Strauss, Green and Cavendish but included Jenson Button, Carl Froch and snooker player, Judd Trump.
Indirectly, its a very different matter. Minority sports don't tend to do well at all in terms of either media coverage or top three finishes at these awards, and as this includes the overwhelming majority of women's sports, other than athletics and tennis, where the main problem is purely down to a lack of homegrown success, women can and do struggle to make any kind of impact outside of any sport in which their own major championships are integrated with, and shown alongside, those of their male counterparts.
There's the real problem and I'm afraid that the tokenistic demands for a change in the voting procedures to, presumably, guarantee that future shortlists include at least one female nominee, will do nothing whatsoever to redress the imbalances that actually account for this year's all male shortlist.
And finally…
The award for the most bare-faced use of tokenism by a sports editor goes – inevitably – to the Daily Mail, whose sole female nominee was paralympic athlete Stef Reid.
Now, you might be thinking 'what's wrong with that?', after all the Daily Mail have nominated not just a female athlete but a paralympic athlete as well, all of which sound unusally enlightened for the Daily Mail.
And this would, indeed be the case had the Mail nominated, say, Hannah Cockcroft who brought home two gold medals from the IPC World Athletics Championships, which were held in January 2011, in New Zealand.
Stef, who holds the world long jump record in her class, is considered a serious medal contender for next year's Paralympics, buth this year things didn't go quite so well and her medal tally from New Zealand came in a just a couple of bronze's.
Now, in sporting terms, two gold's beats two bronze's any day of the week, so what has Stef got, in the eyes of the Daily Mail, that Hannah hasn't?
Go on… have a guess before you scroll down to the next bit…
….
….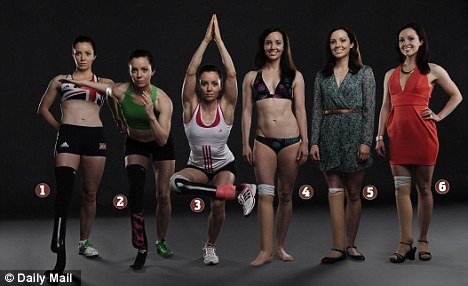 Quick caveat here in relationship to the copyright in the bottom-lef corner – MoT is hosted in the US, this is non-commercial use for purpose of criticism, which is permitted under US copyright law under its fair use provisions, and the Daily Mail is already being sued for copyright infringement and nicking photos without payment, so they're hardly in a position to complain if a blogger uses just one of their images to illustrate the point, which is that – by a complete coincidence (yeah right) the only female athlete that the paper managed to nominate turns out to be the one that gave them an exclusive interview and photoshoot, which was published on 13 October 2011…
…and all because the Mail expects its readers will find Stef's collection of prosthetic limbs absolutely fascinating (and never mind the gratuitous bikini shot).
Fair play to Stef Reid – assuming she got paid for the interview and photoshoot – but as for the Daily Mail…
…for fuck's sake!
Whatever other criticisms you might have of Nuts and Zoo, at least this once they can't accused of nominating a woman for an award just because the got their kit off for a photoshoot.