India prides itself on being the world's largest secular democracy but when you scratch the surface of that claim just a little that claim starts to look rather shaky as Indian skeptic and rationalist Sanal Edamarku recently discovered after he investigated a 'weeping statue' at the Catholic Basillica of Our Lady of Good Health at Velankanni:
Sanal Edamaraku leader of the Indian Rationalist Organisation  set out to investigate a weeping statue in Mumbai at the Our Lady of Velankanni Church and caused a storm when he released his findings in March.

Edmaraku claims that the "holy" water comes from a nearby toilet and could be infected with bacteria and he also accused clergy of using the situation to make money from visiting pilgrims. For these claims Edamaraku faces charges that could land him in prison for up to three years under the nation's 152-year-old blasphemy law.
Weeping statues are so easily faked that even the Vatican is wary of such claims and has only ever given its official sanction to one manifestation of this phenomenon, Our Lady of Akita, and only then because it forms part of a larger sequence of Marian apparitions which were given official approval, in 1988, by the then Cardinal Joseph Ratzinger – there are one or two other weeping stature that have been approved by local bishops but Akita is the only one to have been sanctioned by the Holy See.
It is, as you might expect, not entirely clear how rigorously the Vatican pursued its investigation of the Akita statue. A scientific investigation of the blood, sweat and tears that were seemingly being exuded by the statue was undertaken and it concluded that these fluids were 'human in nature', but unlike a number of more recent examples of this 'phenomenon' it doesn't appear that the church went so far as use DNA testing to rule out the possibility – or rather, likelihood – of a hoax. What made Akita different from other weeping statues and claimed Marian apparitions is that it ticked all the right theological boxes so the default assumption here has to be that it probably wasn't scrutinised quite so rigorously as some more recent claims have been.
Getting back to Sanal Edmarku's situation, it appears that the blasphemy complaints that could see imprisoned for three years came from other Catholic activist groups and not, directly, from the Church although these groups do appear to have the support of the local Bishop:
Those invoking it [the blasphemy law] against him said they were offended by Mr. Edamaruku's comments that clergy at Velankanni Church in Mumbai were using the sight of water dripping from the feet of a Christ statue to make money from visiting pilgrims.

The Catholic Secular Forum filed a first information report with the police in Mumbai, while the Association of Concerned Catholics and Maharashtra Christian Youth Forum also objected to Mr. Edamaruku's claims. The groups also accuse Mr. Edamaruku of alleging the Catholic Church practises idolatry.

"They want to avenge and put me in prison," said Mr. Edamaruku, who fears he could be arrested immediately if he returns to Mumbai.

The Catholic Bishop of Mumbai Agnelo Gracias has called on Mr. Edamaruku to apologize for "hurting" the Catholic community and said that no money had been collected at the shrine.

In a letter to The Examiner, a Catholic Newsletter, the bishop said he did not believe the water to be a miracle. "But to make that an occasion to hurl false allegations against the Christian community and its leaders is quite another matter," Bishop Agnelo wrote.

Although the groups who have taken the cases against Mr. Edamaruku do not represent the bishop, he appeared to praise them for their actions. "We can rejoice that there are some people who have the courage to stand up when the attempts are made to besmirch the name of the Catholic community."
Velankanni, I should perhaps explain, is often referred to as the 'Lourdes of the East' and has much in common with Lourdes. It has a Marian shrine, of course, and with that goes a number of claimed apparitions and the usual clutch of supposed healing miracles – and, much like Lourdes, the town of Velankanni, which has a resident population of just over 10,0o0, is crammed to the gills with retailers of assorted religious tat.
The entire way to the church was crowded with shops on both the sides. Beautiful Christian melodies in various languages were heard through out. The moment a shop owner saw us he started playing "Malayalam" songs. We were so astonished as to how he found that our mother tongue was Malayalam. Should be the experience selling cassettes to tourists over the years that helped him infer our native. Sound of the waves lashing against the sea shore could be heard amidst these beautiful songs.

Young children selling rosaries, photos and rings of Mother Velankanni, imitation jewellery, toys and food stuff were seen around. As we moved closer to the church, many vendors came running with garlands, coconuts and candles. After buying the garlands and the candles we proceeded to the church. It was indeed crowded with people of all cast and creed.
That's from a personal account of a visit to the shrine that's published on the Church's own website, and that same account go on to cast  considerable doubt on the veracity of Bishop's Agnelo Gracias's claim that no money had been collected at the shrine:
The main shrine had a main decorative arch built by the Portuguese. The high altar was decorated with rare porcelain plates that illustrated scenes from the Bible. They were brought by the Portuguese from China. The altar had Our Lady of Health with a child in her arms. She looked so beautiful wearing a red sari. (Sari is the typical dress worn by the Indian women. It consists of several yards (5 meters or more) of light material draped around the body in a particular fashion).

A statue of Jesus Christ was by her side. Devotees made their offerings on the left of the main altar. The pilgrims offer the Mother anything from cows, goats, paddy, tea, coffee, cardamom, oil and saris. When Annai (Mother) dons a new sari, given to her by a devotee, small pieces of her old sari are distributed to the devotees. It is called the "Blessed Sari". We joined a long queue of devotees to offer our Mother the Garlands. It was collected by a volunteer who stood at the side of the altar and was handed over to another person who adorned the mother with the Garland. A second later, another volunteer took away the Garlands so that new ones could be adorned on the Mother. We could move from the main Basilica to the side wing. We had a side view of the Lady of Health with a child in her arms from this wing. After lighting the candles we proceeded to the main altar to kneel down and pray. No words can express the happiness and peace that I felt in the presence of our beloved Mother.

Two offering boxes were kept near the altar. One was for money and the other for gold and silver. The devotees make various models in gold and silver and present it to the Mother as a token of gratitude for the numerous blessings she has bestowed upon them.
Based on other tourist reports, the Church also has its own official offerings shop as well, just in case you've forgotten to bring a gold or silver model with you.
To put this in perspective, Velankanni – as I've already mentioned – has a resident population of around 10,000 people, including a small shanty town on the beach.
The main church Basilica looks like this…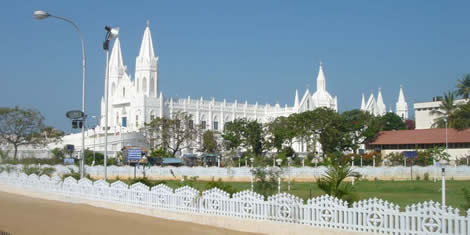 Then there are three more shrines, a chapel, a museum and a large complex which houses the church offices and priest's living quarters, plus at least three other churches, five convents, an Institute of Mariology, a community hall, a couple of hostels and a 'Blessed Oil' counter.
It's a big operation. It hauls in around 2 million pilgrims a year, half a million of which turn up for just one annual gig, the feast day of Our Lady of Good Health (September 8th, although the festival actually kicks off on 29 August. In terms of visitor attractions, that puts it ahead of the Uffizi and Prado and not too far behind the Taj Mahal and Pompei in terms of drawing power although, in religious terms, its a fairly modest draw compared to the 'big boys' of the pilgrimage business; Jerusalem, Mecca, Varansi and Lourdes.
With an operation of that scale on his turf, one shouldn't really be surprised to find that the Bishop of Mumbai is just a tad sensitive about the suggestion that the Velankanni operation might have been rooking the faithful with a weeping statue scam, although he might have made a better fist of things had he bothered to check the church's website before making the claim that no money had been collected at the shrine.
To keep track of any further development, I'd suggest that you bookmark Sanal's blog – http://sanaledamaruku.blogspot.co.uk – and if you're feeling generous then Rationalist International has set up a defence committee for Sanal and a defence fund to which you can donate via Paypal.