As independent blogs go Liberal Conspiracy is, for the UK, a pretty sizeable operation and, I assume, quite expensive to run, so one can hardly be surprised to see it running a bit of advertising in an effort generate a bit of revenue to pay the hosting bills.
What is surprising and, frankly, rather perplexing is the sight of Lib Con running dodgy advertorial copy and making a piss-poor job of it at the same time: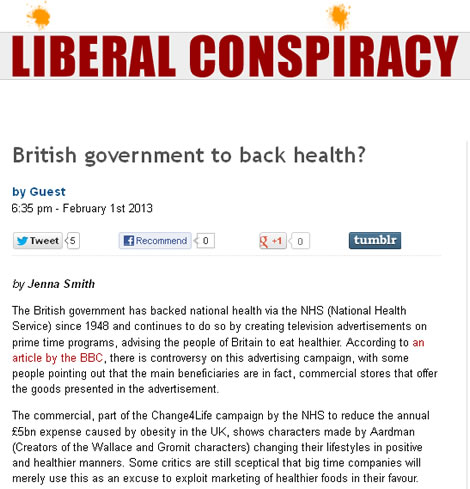 Jenna Smith, whoever she is, is billed at the end of the advertorial as a "freelance writer who most often writes about personal finance, business, and sometimes politics".
Mostly, however, she appears to knock out advertorial copy (h/t Gimpy for the links) and just from the opening couple of paragraphs here it seems fairly evident that she's not British, and certainly not used to writing for a British audience – A Brit simply wouldn't feel the need to explain that NHS stands for National Health Service.
As for her use of English grammar, well that nothing to write home about – and I suspect that home, in Jenna Case, is somewhere in the United States. For starters we have 'eat healthier' – eat healthier what? In the UK we still have this quaint habit of using nouns.
And just don't get me started on 'there is controversy on this advertising campaign'. There could be controversy about or over this advertising campaign or maybe even surrounding it or, indeed, the advertising campaign could be controversial but there's no controversy on it. An advertising campaign is not a table you put thing on, least of all something as intangible as a controversy.
Where this advertorial really takes the piss, however, is its use of an apparent controversy over the involvement of commercial enterprises in funding and promoting public health messages using the imprimatur of the Department of Health as a vehicle to promote a commercial business – Rejuva Health – that tries to sell medical appliances as something approaching fashion items on the entire dubious premise that its products are "clothes that help our body function naturally in today's world".
What the company is selling are compression socks, leggings and shorts and, okay, the socks are at least useful items if you've recently had surgery, are taking a long-haul flight or you have an underlying medical condition – say diabetes or CHD – which results in poor circulation in the legs and an increased risk of thrombosis. Most of the sales pitch on the company's actual website appears to focus on flogging its wares as means of improving athletic performance and avoiding injury and, indeed, there some high performance distance runners – notably Paula Radcliffe – who wear compression socks in the belief that they help to reduce fatigue and lower the risk of muscle cramps, etc. which can lead to strains and tears.
Whether they actually do that or work only as a bit of placebo I can't say, not having seen the evidence to support such claims, but what I am confident of is that the claim that these items 'help the body function naturally in today's world' is a load of bollocks designed to sell gullible people shit that they don't actually need because their body will function perfectly well – and naturally – without it.
If Lib Con must run advertorials to generate a bit of revenue then so be it, but they could at least try to be a bit clearer in identifying this kind of copy as advertising from the outset rather than simply tacking "Consideration was received for the editing and publishing of this article" on the end of the article – standard practice for most newspapers, other than the one's owned by Richard Desmond, is to identify such material as advertising at the beginning of the article, not the end.
For me, however, this is less of an issue than the article's use of an utterly fatuous health claim as its main sales pitch and the extremely dubious context in which it appears.
At the very least, I'd hope that Lib Con will try to a be a little more selective about any advertising copy it runs in future. The sidebar full of Abercrombie and Fitch suppliers is already incongruous enough – although, thankfully, easily blocked – without the site descending into the promotion of dodgy health claims.