By now you should have seen the news that Nadine Dorries, the MP for Mid-Bedfordshire, is under investigation by IPSA, the Independent Parliamentary Standards Authority, over expenses claims "that should not have been allowed".
Exactly what these expenses claims are has yet to be made clear. IPSA has indicated that it will say nothing more publicly until it's inquiries have been completed but as the day went on and the story developed, information provided to the press by Nadine Dorries in the course of denying any wrongdoing appears to the suggest that main issue relates to accommodation costs claimed by Dorries between May and July 2012 and, possibly, a duplicate travel expenses claims, which Dorries puts down to nothing more than a simple clerical error:
She told the BBC she believed the inquiry had been triggered by her accommodation costs for the apartment she rents in Westminster.

In May, June and July last year, her claims were slightly higher than usual, she said, because her daughter was staying with her.

She also said it may have been prompted by a mistake by her parliamentary assistant, who accidentally claimed twice for petrol costs.
Further details emerged later on in the day, when Dorries went on the attack, threatening to 'go after' IPSA and accusing them of targeting her in order to justify its funding because she is – at least in her own mind – a 'high profile' MP.
From these later reports, it appears that it's been suggested that Dorries may have been subletting her London flat between May and July 2012, the main 'evidence' for which may be a claim for higher than usual electricity bill:
Ms Dorries said Ipsa was also accusing her of subletting her flat because an electricity bill for a period when her daughter was home from university was higher than her normal bills.

"They suspect that I sublet my flat for three months. I certainly didn't," she said. "Any MP that went through the MPs' expenses scandal would have to be mad to have sublet any property since." She added: "I have never misclaimed one penny on my expenses."
Dorries doesn't state which of her three daughters was 'home from university' but what we do know is that Dorries' eldest daughter, Philippa, was studying law, seemingly in London, while at the same time working for her mother as her "office manager/executive secretary" on a salary of "up to £39,999", an arrangement that ended in August 2012 when the younger Dorries move on to take up a job as a trainee solicitor with Mishcon de Reya.
And, with Philippa moving on to bigger and better things, it has been reported that her place in the family 'firm' has been taken up by Dorries' second daughter, Jennifer, and a quick check of the Register Of Interests Of Members' Secretaries And Research Assistants indicates that as of January 2013, the last date on which it was updated, Dorries has three entries against her name; William Joce, Andrea Gordon and Jennifer Dorries.
Curiouser and curiouser.
So, last night, I decided to dig a little further in this story to see if I could figure out what might have triggered the IPSA investigation and, at this point, I will stress that everything that follows is based solely on an analysis of information that is already in the public domain, in particular the detailed information on MPs expenses claim published by IPSA on its website, although I've also used They Work For You to check the date on which the House of Commons was sitting between April and August 2012 and Public Whip and Hansard for her voting record.
In short, what I've done is follow the golden rule of investigative blogging – follow the money.
So, to begin at the beginning with Dorries' Westminster flat and accommodation expenses, the records published by IPSA show that the rental cost for the flat between April and August 2012 weighed in at £1607.66 per calendar month, and from looking at one or two property rental websites that kind of money will get you, at best, a decent one bedroom flat in and around Pimlico.
Records also show that Dorries claimed £616.07 for Council Tax and an electricity bill of £67.14, which isn't particularly high but nevertheless, for a late spring/early summer bill, that bill suggest that the flat was being used on a reasonably regular basis.
I then used Dorries personal mileage allowance claims, for which I had data covering the period for April 16th to August 2nd 2012, to map Dorries' movements during this period – and when I say 'map' I do mean in purely general terms and, unfortunately, at the risk of walking head first into Dorries' favourite passive-aggressive label, i.e. 'stalker'.
I should also point out that Dorries' record-keeping – unsurprisingly – leaves something to be desired.
Within the records obtained from IPSA there are two batches of travel claims that were given a short textual description which might suggest that they were backdated claims for expense incurred in December and January of the previous financial year (2011-2012) even though transaction dates for these claim indicate they belong to the period from April to August 2012. For the purposes of this analysis I've taken the transaction dates for each claim to be the actual date to which the claim relates.
Having checked the travel expense claims recorded both for Dorries and her staff, I can find no evidence of a duplicate entry anywhere in the records to match Dorries' 'One of my scutters pushed the button twice' story, although its possible that this may mean only that query has been raised about a claim that hasn't yet been published by IPSA.
I also found three dates (30/4, 17/5 & 23/5) on which Dorries is recorded in Hansard as having voted in the House of Commons, for which there are no corresponding mileage claims and where the preceding sequence of claims appears to indicate that she returned to her constituency home on the last day that she'd travelled prior to the day on which she voted.
And there are also three dates on which a member of Dorries' staff made a round trip from her constituency to London, and back, where these claims were recorded incorrectly as 'Within Constituency Travel' (12/6, 21/6, 12/7). Of these three journeys, the one that took place on 21 June is possibly the most interesting as Dorries' own travel claims for that week show that she claimed for travelling from her constituency home to Westminster, in her own car, on 20 June but took a train back to her constituency home on the following day (21 June). Four days later, on 25 June, she claimed for a round trip, in her own car, from her constituency to Westminster and back, which appears to indicate that her car travelled from London to her constituency home at some point during those four days without Dorries being in it. That looks a little odd but may mean only that she let one her children borrow the car so they could drive up to the family home.
In short, I can see why IPSA might choose to audit Dorries' travel claims, with or without opening a formal investigation, but not, immediately, why that would trigger a formal investigation.
However, one of the key reasons that MPs elected to represent constituencies outside Greater London and its immediate commuter belt are permitted to claim expenses to cover the costs of a second home in London is because for most such MPs a daily commute to London from their constituency home is rather impractical, if not impossible.
This is the main justification for the accommodation allowance and, typically, when Parliament is in session, most MPs who do claim this allowance will tend travel to London at the start of the working week – normally a Monday – and only return to their constituency when their working week is over, either on Thursday evening or Friday morning. This is why Fridays are traditionally used for constituency work and why, if the House of Commons does sit on a Friday, it's more often than not only because an urgent matter or piece of legislation needs to dealt with or to deal with routine and largely uncontroversial matters (e.g. private members' bill that have no chance of becoming law, routine secondary legislation, etc.) that don't require large numbers of MPs to be in attendance.
What most people who live their lives outside the Westminster bubble would, quite reasonably, assume is that an MP who claims for a second home in London would make quite significant use of that property when Parliament is in session and, in all probably, stay overnight at least 3-4 days each week, particularly as eligible MPs can claim up to £19,990 in accommodation allowances of which £17,400 can be claim to cover the costs of renting a property.
Based on Dorries' mileage claims, the following hand infographic summarises her verifiable (from records) usage of her £1,600 per calendar month London flat during the period from 16 April 2012 to 2 August 2012, which of course covers the full period that IPSA is currently investigating.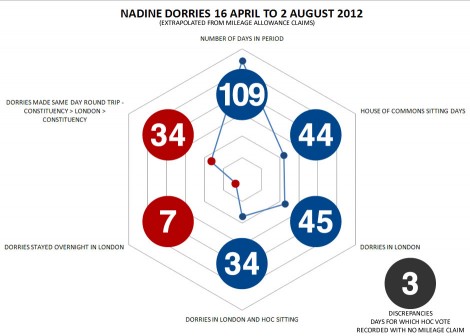 In short, I could find only 7 occasions on which Nadine Dorries appears to have stayed in her £1,600 a month, taxpayer funded, London flat in the 15.5 weeks (109 days) for which IPSA has data covering her mileage claims, although we do also have three days on which Dorries was certainly present in the House of Commons, as she is recorded as having voted in the House in Hansard, for which there are no corresponding mileage claims.
[CORRECTION – A coding error when generating the infographic resulted in it showing that Dorries made 33 same day round trips from her constituency home to London and back between 16 April and 2 August 2012. If was, in fact, 34 same-day round trips – one round trip was omitted because a mileage claim for travel within her constituency filed for the same date, indicating that Dorries did a bit of constituency business on that day in addition to driving down to London to attend the House of Commons and back to her constituency home. This does not affect the figure quoted for the total value of her mileage claims for travel between her constituency home and Westminster].
Right now, we have no way of knowing whether these were occasions on which she used her flat overnight, in which case the discrepancies would stem from clerical error in her claims,  or days of which to Westminster from her constituency home for which a mileage claim hasn't been submitted. If – and right now it is an if – those discrepancies stem from nothing more than clerical errors, i.e. an incorrect date entered on a neighbouring travel claim, then it could push Dorries' overnight use of her flat up to a whole 10 days in the near four months from April to the beginning of August 2012 and slightly reduce the number of commutes but this would still indicate that Dorries commuted on three out of every four days that she attended either the House of Commons or her Westminster office.
In total, Dorries' mileage allowance claims from travelling between her constituency home and Westminster during this period, add up to £1578.29.
This is on top of the £6430.64 paid in rent for the London flat, a £616.07 Council Tax Bill and, of course, the £67.74 electricity bill for a London flat that Dorries may stayed in, overnight, for just 7 nights in total – in rental costs alone, 7 nights over 4 months at £1,600 per month puts the cost of Dorries' London property, to the taxpayer, at just over £900 a night before any other bills are paid.
That electricity bill*, when set against Dorries' mileage allowance claims and what they appear to indicate about her own use of the flat, natural raises questions as to who else might have been using the flat during this period (and how often), not least as Dorries' mileage allowance claims show that she appears to have made 33 34 same-day round trips from her constituency to London and back.
* If you're at all unsure as to why a £67 electricity bill would trigger off an investigation then (a) you never dealt with auditors and (b) the following graph, which shows the mean monthly temperature for London and the South East from October 2011 to July 2012 (source: Met Office) and the quarterly electricity bills for which Dorries claimed on expenses during this period, should help – just remember that, for most people, heating accounts for a substantial portion of their electricity usage, so the colder the weather, the higher the bill (and vice versa, of course).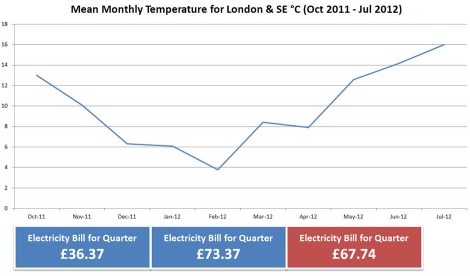 That, I strongly suspect, helps to explain why the possibility of Dorries' subletting the flat has entered the frame although I think it unlikely in the extreme that that is, in fact, what has actually happened here – she may be anything but the brightest object in the Parliamentary firmament but she's still not that stupid.
Dorries has, however, stated publicly that one of her daughters was staying with her between May and July 2012 (although not which one) and put this forward as explanation for her higher than usual electricity bill and this leads me to wonder whether what Dorries actually means when she says her daughter was 'staying with her' may, in fact, be much closer to 'staying at her Westminster flat' while Dorries herself was regularly commuting back to her constituency home at the end of the working day and only very rarely using the flat for the purpose for which it is actually intended, and for which the taxpayer ultimately pays.
If my analysis is correct – and if it isn't it will only be because the data from IPSA is inaccurate – then furnishing Dorries with a second home in London cost the taxpayer just over £900 per night in rental alone for every night that it was actually used by Dorries during this period. On the most charitable reading possible, allowing three overnight stays for the 3 days on which she registered votes in the house for which there are no related travel claims, we're still looking at a flat that cost the taxpayer a little over £640 per night for every night it was used.
To put that into context, an Executive Deluxe King Room at the Dorchester current costs £678 per night for which you get almost 600 sq ft of floor space including a luxury bathroom, air conditioning, a four-poster bed, Bang & Olufsen LCD TV and entertainment centre, wi-fi access, an in-room office area with a printer/fax/copier/scanner and a very nice view overlooking Hyde Park.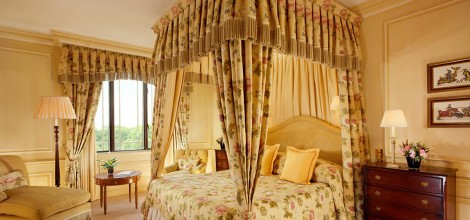 For what the taxpayer appears to have paid for Dorries' actual overnight stays at her London flat during this period we could have just have easily put her up at the Dorchester and have even have thrown in dinner and a show – although, for the record, the most that an MP can claim for a night in a hotel in London is a mere £130*.
* At £130 per night, 48 nights in a London hotel – one for every day Dorries appear to have been in Westminster on Parliamentary business, would come in at £6,420, only £12 more than the cost of 4 months rent on her flat. However, 7 nights in London at the maximum hotel rate for MP would amount to just £910.

What isn't covered by Dorries' mileage claims is any private travel to and from London at weekends or when Parliament was in recess, as it was for the Queen's Diamond Jubilee, which could increase the number of nights that Dorries actually used the flat, herself, but then the whole point of the accommodation allowance is to provide MPs with a place to stay when they're working, not a weekend pied-à-terre in the city so I rather suspect that perks of that kind will be tolerated by the general public only if they're convinced they're getting value for money from an MP during the working week.
Does this, however, mean that Nadine Dorries has broken any rules and claimed expenses to which she's not entitled?
That, at this stage, is extremely difficult to say.
If, as seems entirely possible – if not likely – one of Dorries' adult daughters has been using her London flat on a semi-regular basis while Dorries has been effectively commuting to work almost every day, then this question hinges on whether or not IPSA views the definition of 'staying with mom' as being one that extends to staying rent free in a taxpayer funded flat when mom's not there.
It will also depend on just exactly how often the flat was used in this manner – assuming that that is indeed what happened – as I should imagine that occasional use will be tolerated but if it turns out that one of Dorries' adult offspring was using the flat on a regular basis while her mother was out of town then things could get a little bit sticky for the MP for Mid-Narnia.
It's only natural for a mother to give her offspring a helping hand every once in a while, but very few of us ever have the option of unilaterally nationalising the 'Bank of Mom'.
Dorries is, of course, not the first Tory MP to run into trouble for claiming for a second home in London while living well within what many people would regard as reasonable commuting distance from Westminster as Eric Pickles proved when challenged to justify his claim for a second home on Question Time:
[youtube]http://www.youtube.com/watch?v=LYl6WW5ypRE[/youtube]
Pickles' main home is just 37 miles from Westminster and, at least, had the excuse of being a Cabinet Minister – and ministers typically spend far more time working in London than mere backbenchers.
Dorries' constituency home, according to her mileage claims, is just under 7 miles further away (approx 44 miles by road) than that of Eric Pickles and the impression that this is a perfectly reasonable distance for an MP to travel on a daily basis, to and from the House of Commons, will be in no way lessened by the fact that she made that she did make that particular round trip 33 times during the same period that she appears to have stayed overnight at her London flat on just 7 occasions.
Dorries may very well not have claimed any monies to which she was not entitled according to the current rules on MPs expenses claims but the court of public opinion is likely to take a very different view on the question of whether she was morally entitled to claim more than £6,400 in rent for a property in London and close to £1,600 in travel expenses incurred while commuting to and from Westminster, on a daily basis. Many may regard that as having your cake and eating.
That Dorries also views her parliamentary office as a job creation scheme for her daughters and the possibility that at least one of her daughters may have been spending significant amounts of time living rent-free – or rather at the taxpayers' expense – at Dorries' otherwise minimally-used London flat is likely to prove particularly toxic at a time when the Tories 'bedroom' tax seems set not only to heap further misery on the least well-off, many of whom are in work but on low incomes  but, in many cases, will drive people out of their homes and even out of the area in which they, and their family, have lived for many years. That such issues are going to be particularly acute in London, due to its cripplingly high property prices, will only make things worse.
IPSA's investigation may very well not lead to Nadine Dorries' parliamentary career coming to the sudden and ignominious end that many of her critics believe she so richly deserves.
It may not even result in her being required to repay any of the monies claimed for London flat.
But, if what emerges from this investigation speaks of profligacy in a time of government-enforced austerity and a grossly over-inflated sense of personal and familial entitlement – and Dorries has never once been short on the latter since entering Parliament – then the chances of regaining the Tory Whip and standing for re-election in Mid-Bedfordshire as anything other than an independent (or maybe UKIP) candidate will have diminished considerable, perhaps even to the point where she'd have more chance of gaining an elected office  by throwing her hat into the ring at the upcoming Papal election.
Oh well, there's always Celebrity Big Brother I suppose.