If there is one thing I learned very well back in the days that I worked in and with the Public Sector it's that once you get above a certain level of seniority, the staff become highly adept at creating unnecessary work purely for the sake of creating the appearance of doing something that might appear important or worthwhile to the general public but which, in reality, serves no other useful purpose.
A little over ten years ago, I was involved in the planning and development of what was, for the time, an extremely innovative local public health project; a local health information website.
That may not sound like much today, but this was back in days when the vast majority of public sector websites were still badly designed static HTML sites that had to be updated manually, often by outside contractors, so we were breaking new ground by going out and commissioning a bespoke content management system to enable the site to managed entirely in-house by non-technical staff.
We had a reasonable budget for the project, courtesy of the-then Labour government's Health Action Zones programme, which was being managed through the NHS but the project itself was a joint venture between the NHS and the Local Authority and so it was, while we were still at the planning stage, we we're asked to consider a fully costed proposal for the work that had been drawn up by a couple of local authority officers, one that included a £10,000 budget to pay for a consultation with local disability organisations and disabled people in order to ensure that the website was accessible to disabled people.
When that plan came to the project steering group, of which I was a member, pretty much the first thing I did was kill off the proposed consultation, not because I've got anything against disable people or because I didn't think disability access mattered but simply because I'd already done my homework and was well aware of the fact that there was already a considerable amount of research evidence to work with that had been generated by disability organisations, particularly in the US, and an established set of accessibility standards that had been adopted by the World Wide Web Consortium, all of which that had the consultation gone ahead, we'd have blown £10k of the budget on an exercise that ticked a couple of boxes for the local authority but which otherwise would have told us nothing at all about creating accessible websites that we couldn't have got free of charge from existing research.
According to The Guardian, the soon-t0-outgoing Director of Public Prosecutions, Kier Starmer, is to launch an inquiry why police forces are reporting fewer cases of rape, domestic violence and child abuse to the Crown Prosecution Service than they were a couple years ago, a project that, like the disability consultation that I've just been talking about, smacks of the DPP trying to create the appearance of doing something important over during his last few weeks in post when, in reality, at least part of the answer to his question should be as plain as the nose on Barry Manilow's face.
In fact, the answer he's looking for – at least when it comes to the fall in reported rapes referenced in The Guardian's article (down by 1,400 in the year to March 2013 over the previous year) – is something that I blogged back in February, but with an extra 3-4 months data to add to the picture I generated then I think its worth revisiting the issue from scratch, which means it time get nerdy with a few simple statistics and a graph or two: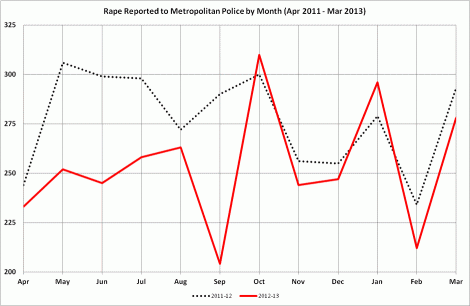 Okay, so what you are looking at here is the month by month data for the number of rapes reported to the Metropolitan Police from April 2011 to March 2012 (black-dotted) and April 2012 to March 2013 (red-solid) and as you can see there is quite a difference in the number of rapes reported in the first half of 2012-13 compared to the same period in 2011-12 – down 14.9% compared to a fall of just 1.9% for the second half year.
Now, one thing you need to understand about rape is that it is a crime that typically exhibits particular seasonal patterns. If we leave marital/partners out of the equation then rape is, by and large, a crime of opportunity and so trends in the number of rapes that take place, and that are reported to the police, are typically influenced by environmental and other factors that serve to either create or limit opportunities for rapes to take place.
For example, in a country with like the UK, you will typically find that more rapes take place during the summer  months than during wintertime and this is largely down to the fact that during the summer, when the weather is warm, more people are out and about than during the winter when its cold and people tend to stay at home – and more people out and about equal more opportunities for rape to occur.
That might sound stupidly simple but it is true; there are several published studies that have looked at seasonal trends in rape statistics that have found  a clear correlation with the weather/climate in the location to which the study relates.
Within that overall seasonal trend there can be other periodic variations that reflect other local factors.
Although January in usually one of the coldest months of the year in the UK it is nevertheless the case that you will almost always see a substantial increase in the number of rapes reported to the police in January relative to the numbers reported in both December and February, which is – of course – attributable to a short-term seasonal increase in the number of people going out and getting shit-faced over Christmas and New Year. Alcohol consumption is a major risk factor in date/acquaintance rape both in terms of perpetrators and victims, so one can be hardly be surprise to find the number of rapes reported to police going up in the month following the traditional Christmas/New Year bingeing season.
On the other side of the coin, you'll see in the Met's figures for 2011-12 that there's a fall in the number of rapes reported in August, which is when people living in big cities like London tend to go away on holiday and that means fewer rapes reported in London but almost certainly an increase in rapes reported in those holiday destinations that are popular with Londoners.
Okay, so by now you should have got the general picture and (hopefully) have realised that there is something rather off about the figures about the figures for the first half of 2012-13, which are completely off trend from May to July and again in September, as can been seen much more clearly in this next graph which shows just the percentage difference in the figures for each month between 2011/12 and 2012/13.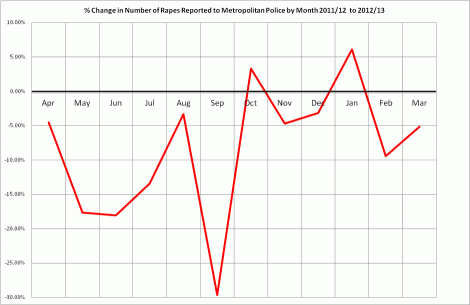 I think that graph makes it perfectly clear that something pretty significant happened in May/June and also in September, that threw the number of rapes reported to the Metropolitan Police seriously off trend – the question is what could possibly have generate such an effect?
And the answer is this…
The Metropolitan Police teams that specialise in rape and sex assault cases are to undergo a major reorganisation after a series of failed investigations, the BBC has learned …

… The Independent Police Complaints Commission (IPCC) has conducted nine inquiries into the force's handling of sexual assaults.

In February, it published a report that found a Sapphire unit, in Southwark, south-east London, had "encouraged" victims to withdraw rape allegations to boost detection rates in 2008-09.

BBC News, 26 April, 2012

———-

A former Metropolitan police detective is to face 13 charges of failing to perform his duty and falsifying records in rape investigations.

Ryan Coleman-Farrow, 30, was leading the investigations while serving in the Met's specialist sex crimes unit, Sapphire.Allegations against Coleman-Farrow were investigated by the Independent Police Complaints Commission. The charges relate to his handling of 13 separate cases of alleged sexual assault.

The Crown Prosecution Service said between January 2007 and September 2010 he "engaged in conduct amounting to an abuse of the public's trust" while working for Scotland Yard's specialist Sapphire unit.

The Guardian, 25 May 2012

———-

The Metropolitan police are urging scores of women from north London who have been raped or sexually abused to come forward if they feel their cases were not taken seriously, after arresting another detective in its flagship sex crime unit Sapphire for allegedly falsifying documents.

The arrest stems from one of three investigations into failings in the unit, which could have left rapists at large.

The detective constable – who has not been named – was arrested on Friday on suspicion of perverting the course of justice. Colleagues raised allegations that he had altered crime documents by inserting statements from the Crown Prosecution Service and senior officers to indicate that no charges were to be brought in rape and sexual abuse cases when no such decision had been made.

The officer was involved in 63 cases – 26 of which are continuing, and 37 in which he claimed the inquiry was completed. Each case is being reviewed and at least two women have already been told by detectives that issues have come to light which mean the original decision has now been changed, and the investigation is taking a different course.

The Guardian, 8 June 2012

———-

The number of rapes being reported to Scotland Yard has fallen significantly amid claims of crumbling confidence among victims towards the Met's specialist sex crimes operation, Sapphire.

Since April, reports to Sapphire, lauded as representing the "gold standard" for the investigation of serious sexual violence when it was set up in 2001, have dropped by 14% compared with the same period last year.

Lawyers and campaigners believe the unexpected fall underlines the extent to which victims are losing faith in the Met's pledge to take rape seriously. It follows a series of allegations that senior Sapphire officers shelved cases prematurely.

The Observer, 19 August 2012

———-

An investigator from the Metropolitan police specialist sex crimes unit has admitted failing to investigate the alleged rapes and sexual assaults of 12 women by faking police reports, failing to pass on forensic evidence and not interviewing suspects.

The activities of detective constable Ryan Coleman-Farrow – who pleaded guilty to 13 counts of misconduct in public office on Wednesday – focus attention once more on Scotland Yard's sapphire unit, which is supposed to be the gold standard for rape investigations across the country. Coleman-Farrow's omissions in 13 rape and sexual assault investigations over three years have left 11 men suspected of rape and sexual assault at large, and his misconduct means the cases are "incapable of full and proper investigation" and will always remain unsolved.

His case was one of four major investigations into the unit by the Independent Police Complaints Commission (IPCC) which is due to publish a report on Sapphire in the autumn.

The Guardian, 12 September 2012
It doesn't take a genius to figure out that if fewer women report rapes to the police in the wake of a slew of highly damaging media reports of the police failing to investigate rape cases properly then this will inevitably lead to the police having fewer cases to pass on to the CPS for prosecution even if some of those do belatedly come forward and make report when all the furore has died down because, by that time, any forensic evidence that the police/CPS might have been able to work with to build a successful prosecution will have be long gone.
The Met, alone, accounts for getting on for getting on for a quarter (23-24%) of all reported rapes in England and Wales, so a near 15% fall in reported cases over a six month period is going to have a pretty significant impact on the number of cases going forward to the CPS for prosecution even without considering whether or not media reporting of serious police misconduct in dealing with rape cases might also affect both reporting rates outside London and complainant withdrawal rates in ongoing cases. The fact that the figures for London did go back on trend in the second half of the year won't make much difference at the CPS end of the system because the lead time from report to investigation to charge/prosecution on rape cases will mean that many of the cases reported in the second half of 2012/13 will not have been forwarded to the CPS for a charging decision or prosecution in time for them to included in the CPS's 2012/13  figures.
So there you go Kier, that'll have saved you and the taxpayer a few quid on an inquiry that really isn't going tell us anything that's not already obvious in the figures that the police have already published.
In the same article another exercise in corporate flannel rears up its ugly head and receives an uncritical airing:
At the same time the rape conviction rate was 63.2%, up from 62.5% last year. Ten years ago rape conviction rates were not recorded by the CPS.
No, sorry, that's just not true.
The conviction rate for rape in cases that are prosecuted is actually around 33-35%, the rest of the figures cited by the CPS as 'rape convictions' are actually convictions for lesser offences ranging for sexual assaults to non-violent offences in cases where there was originally a rape charge on the table that was either dropped by the CPS before or during a trial or which resulted in an acquittal on the main charge at the end of trial.
On top of that, about half of all convictions result from a defendant pleading guilty at the beginning of, or during, a trial and much the same proportion of convictions come from cases in which the victim was under 16 at the time the offence occurred, which is an important caveat to bear in mind when you consider that rape offences in which the victim is under 16 are over three times more likely to reported to the police and one and half time more likely to result in a prosecution than cases in which the victim is an adult and that convictions for rape (and not lesser offences) are about a third higher in prosecutions where the victim is under 16 than they are when the victim is an adult.
The CPS counts rape convictions on the same basis that people have each-way bets on the Grand National and consider themselves a winner when their horse comes in fourth so I think it's wise to be sparing with any praise for improved conviction rates until the detailed figures are released as we can see exactly what kind of conviction the CPS has been getting.
In the circumstance, and given what we've seen about the impact of the media's high profile police failures on rape reporting rates in London in the first half of 2012/13, there is more than a whiff of pre-emptive arse-covering to Starmer's announcement, given that a fall in the number of reported cases will inevitably result in a fall in the number of convictions somewhere down the line.
What we actually need here is not an ad hoc inquiry into a single year's fall in the figure but a properly funded, independently conducted, long-term prospective study of the entire process through which rape cases pass, from the initial report to investigation, charge, prosecution and trial, in order to understand properly where in the system cases are falling by the wayside and why. At the moment there is no standardised recording mechanism or reporting criteria for monitoring exactly why rape cases fail to lead to a prosecution, let alone a conviction, so its difficult to know what Starmer expects to uncover with this inquiry other than the fact that the number of rapes reported to the police fell significantly in the first half of 2012/13 and that the police don't record the reasons why many of the cases they do investigate fall to result in a prosecution with any kind of consistency either between or even within individual forces – all of which we already know.