I'm perhaps one of the last people you'd expect to see stepping up to defend Paul Staines (aka Guido Fawkes) but you'd be wrong because there are principles that come into play whenever a blogger, even one as notorious as Guido, is subjected to an unjustified, hectoring attack by a bullying politician for reasons that have never been better expressed than by the playwright Robert Bolt:
Roper: So now you'd give the Devil benefit of law!

More: Yes. What would you do? Cut a great road through the law to get after the Devil?

Roper: I'd cut down every law in England to do that!

More: Oh? And when the last law was down, and the Devil turned 'round on you, where would you hide, Roper, the laws all being flat? This country's planted thick with laws from coast to coast– man's laws, not God's– and if you cut them down—and you're just the man to do it—do you really think you could stand upright in the winds that would blow then? Yes, I'd give the Devil benefit of law, for my own safety's sake.

A Man for All Seasons
At some unspecified point, but probably in the last few days, David Cameron's technologically illiterate self-appointed wannabe Net Nanny, Claire Perry, has had her insecure website hacked, and from the look of things it appears that- amongst other things – she may very well have been Goatse'd (relax, link SFW), the discovery of which led to Guido running the following story at Order-Order.com.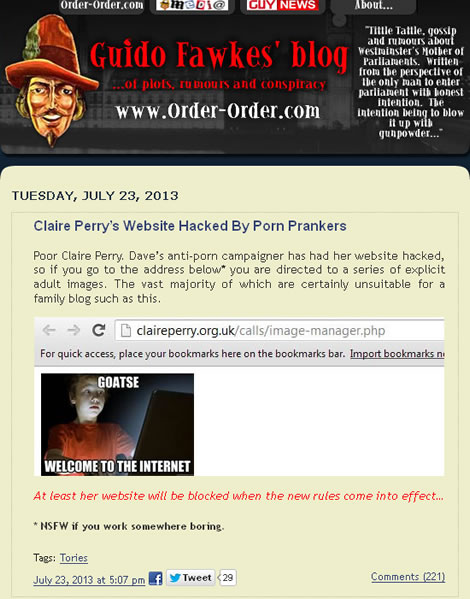 Okay, so that's all just a bit embarrassing for an MP who's making a concerted, if ill-conceived, dishonest and idiotic, effort to censor the internet but nothing like as embarrassing as her response (via Twitter) to Guido's article:
https://storify.com/Unity_MoT/claire-perry-vs-guido
There are a couple of very obvious observations to make about this particular exchange beyond the fact that she evidently doesn't understand the difference between a hyperlink and a screenshot:-
The first is that Perry's apology to "anyone affected by the hacking of my website sponsored by @GuidoFawkes" is quite clearly defamatory, assuming that Guido didn't in fact 'sponsor' the website hacking – and frankly, I've known Guido long enough to know that he's certainly not dumb enough to get his hands dirty in such a manner.
The second is that, having failed to intimidate Guido into dropping his article, Perry resorts to threatening his paid gig as a columnist at the Sun on Sunday, and whatever you think of his decision to take the Murdoch shilling, the fact remains that threats of this kind are absolutely characteristic of the would-be bully who fails to get their own way on the internet and a key reason why so many bloggers have, over the years, chosen to write under a pseudonym, particularly those of us who write about controversial subjects and issues.
Remember, this is the same MP who ran her own sham 'inquiry' in online safety, publishing a report that most definitely was sponsored… by a Christian radio station, in order to inveigle her way into her wholly unofficial position as Cameron's chief 'doing it for the kids' advisor – and by no coincidence whatsoever, Perry's 'report' relies to a considerable extent on the exact same bullshit zombie porn 'statistics' that I've since comprehensively debunked.
If nothing else, Perry's antics in her exchange with Guido lend a considerable degree of credence to PC Pro's recent report, which claimed the Perry effectively hijacked a recent 'summit' between the Culture Secretary, Maria Miller, and Internet Service Providers, in order to push her own agenda:
Culture minister Maria Miller had summoned Google, BT, Virgin Media, Sky and other companies to the Houses of Parliament today to discuss ways to better combat online child abuse. Four leading ISPs agreed to contribute a further £1 million to the cause, on top of previous donations, and to take a more proactive stance to removing child abuse images.

However, a source within the meeting described proceedings as "fractious", with politicians failing to grasp the technicalities involved in filtering child abuse images.

The source also claimed that Miller was sidelined by her Conservative colleague Claire Perry, who has waged a long-running campaign to force ISPs to filter any adult content – not just illegal child abuse images – at source.

"It was a fractious, wide-ranging, meeting notionally hosted by Maria Miller but hijacked by Claire Perry," said the insider.

"Perry was dominating and not listening," the source added. "Saying things like 'you block adult content with parental controls, why can't you block child abuse material'."

The insider claimed that little progress was made toward developing practical solutions to child abuse. "The Home Office opened with some encouraging noises about international efforts, but generally speaking the politicians there fundamentally – or wilfully – misunderstand the technical and legal aspects."

"Little discussion was given to the measures put forward by industry, and any discussion of practical steps was closed down."
It's worth noting the Perry's actual government 'job' is as a Parliamentary Private Secretary (i.e. glorified bag-carrier) to Phillip Hammond, the Secretary of State for Defence (i.e. it has fuck all to do with Culture, Media and Sport portfolio), which in itself is pretty terrifying thought – the combination of deep-seated ignorance of something as basic as the difference between a screenshot and hyperlink and modern military hardware really doesn't bear contemplating.
In all, I'd be inclined to suggest somewhere that Nanny Perry can stick her porn-blocking firewall were it not for the fact that it appear that whoever hacked her site beat me to it.
What I would suggest, however, is that Perry really should take the time to acquaint herself with the meaning of the words 'Streisand effect' before she starts trying to bully, threaten and libel bloggers.