I'll keep this short and sweet, or perhaps not so sweet if you're a Tory canvasser working the Eastleigh by-election.
Political Scrapbook has revealed this morning that, despite presenting herself as an experienced business woman, Eastleigh Tory candidate Maria Hutchings has never been a director of a limited company.
But there's more – this is Hutchings' current Linkedin profile: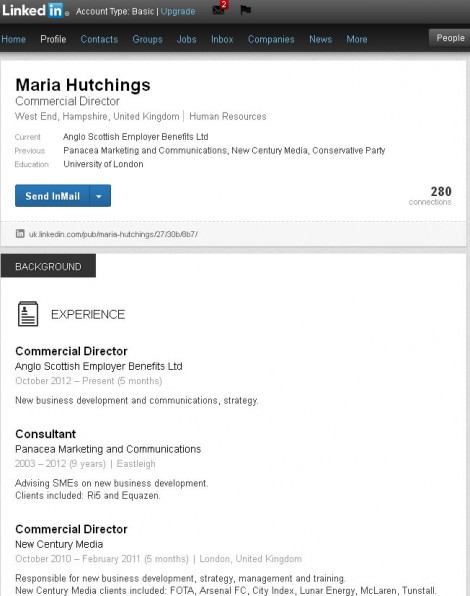 Company and Internet searches for 'Panacea Marketing and Communications', the 'business' for which Hutchings has ostensibly been working for the last nine years have, so far, turned up absolutely nothing.
Not company registration. No website. No email addresses and no references to any such business anywhere on the internet.
Nothing. Nowt, Zip. Nada. Fuck all.
[UPDATE: To clear up one point from comments, I can find nothing to connect either Maria Hutchings or 'Panacea Marketing and Communications' with the similarly named Panacea Marketing Ltd, which is based in Warwickshire and which most certainly is a genuine company with its own company registration, website, etc. Unless documentary to the contrary emerges it sees safe to say that Hutchings does not appear to have any connection with Panacea Marketing Ltd whatsoever.]
[UPDATE 15:00 – Oliver Duggan (@oliduggan) has managed to contact Ri5, one of the two clients listed under 'Panacea Marketing and Communications' and they have confirmed that the did use a 'Panacea Marketing' at an unspecified date prior to 2010 and that Hutchings was indeed the consultant that undertook the work.
As Ri5 have been around since at least 2000, that's one verified piece of actual business in a 6-7 year period between 2003 and 2010 and, again, I can find nothing to link Ri5 directly to Panacea Marketing Ltd of Warwickshine, so 'Panacea Marketing' here may very well be no more than 'Maria Hutchings, trading as…'
As for Equazen, there is a possible connection there going to back to the incident in which Hutchings sandbagged Tony Blair on national TV, as Equazen are/were in the fish oil supplements business. According to Skeptical Voter, Hutchings did get her face into the papers – well, the Daily Mail – way back in 2006, with claims that Fish Oil supplements had improved her son's autism. This doesn't appear to have helped Potters Ltd, the company behind the Equazen brand in the UK, very much as both it and Equazen UK Ltd are currently listed as 'non-trading' and the registration on the Equazen website, which is still going, is currently held by a German company.]
However, and this is much more interesting, Hutchings' current 'employer', Anglo Scottish Employer Benefits Ltd is a new business, which was only registered in June 2012, so there is as yet no financial information for this company or any details of its trading activity.
Anglo Scottish Employer Benefits Ltd has the same registered office address as another company with a very similar name, Anglo Scottish Employee Benefits Ltd – both operate from Highfield Lodge, Burlesden.
Anglo Scottish Employee Benefits Ltd, was first registered in 2006 but company records show it to be a non-trading company. In fact, those same records show that company has never traded since it was first registered.
Both companies have the same two directors/shareholders – John Alexander Gordon Milne (age 77) and John Milne (age 43) which rather suggests that they're father and son.
And, by what I am sure is nothing more than a complete and utter coincidence, the name of the Chairman of the Eastleigh Conservative Association, as of this article about Chris Huhne's speeding ticket problems in May 2011 is…
Writing in Eastleigh News, John Milne – the Conservative Party Chairman for Eastleigh- speculated that Mr Huhne was only waiting for his first anniversary as a secretary of state to pass before resigning as this would enable him to leave with a ministerial pension.
In which case it seems reasonable to ask whether Anglo Scottish Employers Benefits Ltd is actually a trading company, given that Maria Hutchings currently claims on her Linkedin profile that she works for the company as its 'Commercial Director'.
[UPDATE]
Well this is getting even more interesting…
As you can clearly see from her LinkedIn profile, Hutchings cites October 2012 as the start of her 'employment' with Anglo Scottish Employers Benefits Ltd.
See if you can guess when the domain name for Hutchings' campaign website was registered before you scroll any further…?