Note: I don't usually do content warnings but I have tagged this post as 'NSFW' – 'Not Safe For Work' – because of it's textual content which includes a fairly frank commentary on pornography and, in particular, on a legally produced and marketed commercial porn video, dating from the late 1990s/early 2000s, which appears to depict, at least briefly, a simulated sexual assault on an 18-year-old woman – and if you find that kind of thing upsetting then you may prefer to head elsewhere. There are, however, no explicit images or video footage in this article (so if you've landed here while looking for porn, you're in the wrong place) and the video in question does not depict either actual or simulated child pornography or extreme pornography, as defined by s63-67 of the Criminal Justice and Immigration Act 2008, a fact of which I was fully aware before carrying out any of the research for this article.
* * *
As enticing as the thought of Amanda Platell being perpwalked out the offices of the Daily Mail by officers from the Metropolitan Police might be, its looking increasingly unlikely that anything of the sort will happen, notwithstanding the reaction to her utterly idiotic and ill-conceived piece on 'child pornography', which she purports to viewed for an article published (online) in the Mail's 'Right Minds'* section.
*So called because no one in their right mind would take any of the content in that section seriously.
Platell's 'saviour' on this occasion won't be the risible 'we did this in public interest' statement that the Mail belatedly appended to to end of the article a little over 12 hours after its was published online. There is no explicit public interest defence in offences involving actual child pornography although there is a 'legitimate reason' defence which the CPS explains as follows:
'Legitimate reason' is not defined anywhere in the Act. It follows that a particular defendant may advance a range of possibilities for any admitted possession of such material. The provision clearly afforded (prior to section 46 SOA 2003, which introduced an exception for criminal proceedings and investigations) a defence to any party within the criminal justice system who of necessity must have possession of evidential material. There is, of course, no licence to an individual prosecutor or expert to retain material beyond the proper requirements of a particular case.

A defendant claiming 'legitimate reason' is presumed to admit possession of the qualifying material. The language of the Act appears to place both the evidential and legal burdens upon the defendant and following Sheldrake v DPP; Attorney General's Reference No 4 of 2002 [2005] 1 AC 264 it is likely that this will be accepted. As with other such defences that must be raised and proved by a defendant, the standard of proof is civil, namely that the defendant has established that 'it is more likely than not' that there was a legitimate reason for his possession of material.
As regards the section 46 SOA 2003 exemption referenced in the first paragraph, the full scope of this exemption is set out in a Memorandum of Understanding between the Crown Prosecution Service and the Association of Chief Police Officers, which dates to 2004, and which includes the following statement under 'General Principles':
Vigilantism is not merely unnecessary it is unhelpful: anyone taking it upon themselves to seek out or investigate this kind of material where there is no legitimate duty to do so will be liable to prosecution.
Had the Mail been acting on a tip-off which identified a specific website as allegedly hosting child pornography or an individual who was allegedly distributing kiddie porn via a peer-to-peer network then it might be in a position to argue that it had a duty to investigate but I think it unlikely that such an argument can applied successfully to the  fishing expedition that Platell admits to have having engaged in, all of which renders the Mail's 'public interest' disclaimer entirely meaningless.
No, if Platell avoids prosecution here it will be for one reason and one reason only – because what she actually viewed wasn't child pornography at all.
Take, for example, the video that Platell describes in this section of her article, one that, to a considerable extent, serves as the centrepiece of her claim to have viewed child pornography:
One video I watched, of 24 minutes in length, came up when I typed 'teen schoolgirls abused' — another of Hazell's searched-for phrases.

It starts with a sweet-looking girl in her early teens, walking home in her school uniform: long white socks, short skirt and, as we discover later, pristine white cotton underwear.

It's a stilted performance. But while the girl is clearly acting a role, the fear in her face appears to be all too real.

A man is watching her in a car parked outside her house. His accent is a peculiar hybrid of British and American. We learn he's been stalking the girl for weeks. He knows when she gets home from school that she is alone for an hour before her parents arrive back from work.

He tricks his way into her home and within minutes is violating her, before forcing her to perform a sex act on him. Then he rapes her, in every possible position, all captured in close-up. 'No one has to get hurt,' he says to the child, 'if you do what I say.' He tells her she's 'secretly enjoying it'.

His other repeated refrain is: 'Don't you tell a soul or I'll come back and hurt you.' And hurt her he does. Not forgetting his final phrase: 'This is our secret.'
For legal reasons, I should stress here (again) that I was made aware of the fact that this video had been identified, and of its location and of the actual nature of it's content (i.e. that it does not feature either actual or simulated child pornography nor does its content fall within the legal definition of extreme pornography) before undertaking any of the research that follows.
The video in question has been traced back to at least two different porn tube websites (which I won't name here), both of which allow user uploads and both sites have user reporting systems for dealing with illegal content – the larger of the two sites has a web-based flagging system akin to that of Youtube, the smaller one asks users to report illegal content via a specific email address. For both sites a Whois search indicates that their domains were registered through privacy services based in Hong Kong, although the IP address information for each leads back to servers hosted in the United States and both sites reference US law extensively in their terms of service.
On both sites, the video in question has been uploaded with the title 'Teen Schoolgirl abused' and has a running time of 24 minutes and 6 seconds. This is not, however, the original title of the video but one chosen by the user who uploaded it to these tube sites.
An overlay on the video itself shows it to have have been sourced by the user who uploaded it these tube sites from a site call 'PornFlixFree.com', which was originally registered in 2009 but which is no longer operating. The domain name is registered with 1and1 internet through a privacy service in Pennsylvania and currently points to a domain parking service.
So, the online trail goes cold with the closure of PornFlixFree.com as there's no way of tracking how the video was presented on that site or what information may or may not have appear with it, but that doesn't mean we've run into a dead-end, as you'll see from a couple of screen-shots that I've taken from the start of the video before *ahem* any of the action starts.
This the male performer in the video shown in close-up while sitting in a car during the sequence in which he states that he's been watching the 'girl' for weeks: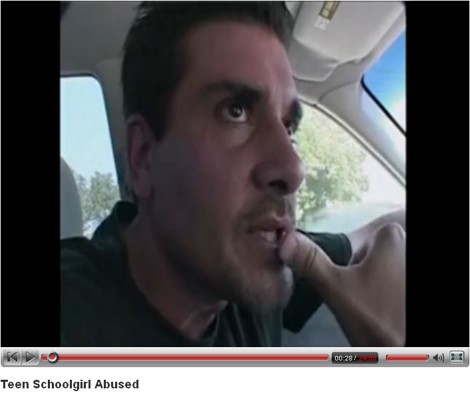 Now if this was a genuine child porn video you'd have to wonder just exactly what kind of idiot would allow himself to be filmed in close-up, particularly as the guy you're looking at there is easily identified as Michael Stefano (AKA Mike Long/Luciano), a very well known porn actor/director and AVN Hall of Fame Inductee (2010) who finally retired from the industry in 2012 after appearing in over 900 films (just over 1,000 if you include compilations) and performing, by his own estimate, in over 3,000 individual scenes. This next photo shows Stefano (on the right) pictured with Jon Dough at the 2005 Adult Entertainment Expo.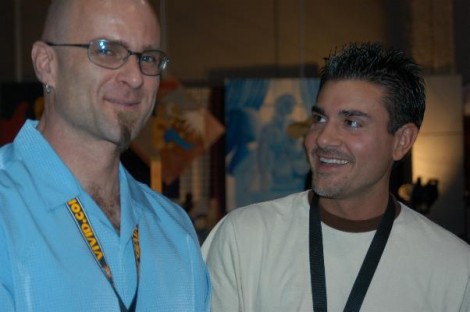 Image by Luke Ford of LukeIsBack.com – used here under a Creative Commons Attribution, Share-alike License
Stefano's career spans the period from 1997 to 2012 and his list of female co-stars over that period comes pretty close to being a who's who of the US hardcore over the last fifteen years; Nina Hartley, Jasmin St. Claire, Asia Carrera, Ginger Lynn, Sascha Grey, etc. – this list goes on and on.
The Internet Adult Film Database currently lists 1,144 porn actresses as having appeared in films with Stefano, although not always in actual scenes with Stefano, and even that list is almost certain to be incomplete.
As for Stefano's co-star in this particular film, this is how she appears (full clothed) early in the film: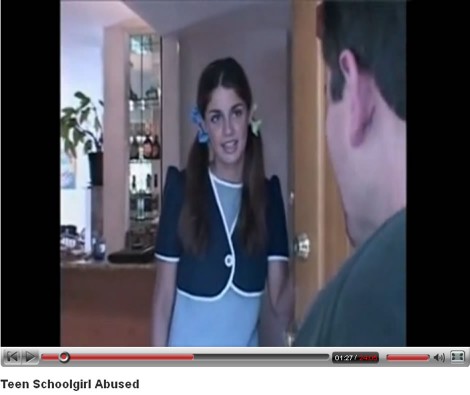 Sweet-looking?
Well, yes… but contrary to the description given by Platell, you'd have to be an idiot not to realise straight away that what you're looking at there is a young women in her late teens or perhaps even early 20s who's dressed and made-up to look younger than her actual age, and she also omit to mention that early in the film Stefano's character demands to know the age of his co-performer's character to which she responds by telling him that she's 18.
As for who she is and the actual title under which this video was originally released, well I'm afraid your guess is as good as mine. I've seen one or two names suggested in various places that are almost certainly incorrect as they relate to performers who only worked with Stefano in the late 2000s when the format (4:3 rather than 16:9 widescreen) and visual style of this particular video date to the late 90s/early 2000s and the period during which Stefano was working under the names Mike Long and, particularly, 'Luciano', a name he dropped in 2001 with the release of a compilation video called 'Luciano R.I.P.'.
Moreover, the very fact that this film includes a short sequence in which the female performer states on camera that she is 18 strongly suggests that it was made between 1996 and 2002.
In 1996, the US Congress passed the Child Pornography Prevention Act which extended the legal definition of child pornography to cover 'computer generated images'* and it also prohibited "any sexually explicit image that was advertised, promoted, presented, described, or distributed in such a manner that conveys the impression it depicts a minor engaging in sexually explicit conduct" irrespective of the actual age of the person in the image.
* In UK law these are referred to as 'pseudoimages', a category which includes everything from images and animations generated exclusively with 3D modelling/rendering software to photographs of adults that are digitally altered to make the subject appear to be a minor, and unlike the US, the possession or creation of such images is very much unlawful.
CPPA was, however, struck down by the US Supreme Court in 2002 (Ashcroft vs Free Speech Coalition) on First Amendment grounds but during that six year period that CCPA was in effect, pornographers producing films in which adult performers were dressed to create the  appearance that they were younger than their actual age or even with performers who genuinely just looked young for their age, ran the risk of prosecution if it wasn't made perfectly clear, on camera, that either the performer or the character they were playing was at least 18 years old.
So, the sheer volume of films in which Stefano has appeared, the apparent age of the video and the fact that the female performer here has clearly changed her appearance for this scene makes it difficult to pin down this scene to a particular film and a specific female performer. Some of Stefano's co-stars for the period that the video appear to date to had very short porn careers which left behind little more than a stage name to work with, others have had much longer careers during which their physical appearance and the name under which they're billed has changed considerably, making it almost impossible to match the photos that appear against their entry in the Internet Adult Film Database to the image above nigh on impossible.
What we can, however, be sure of is that this actress' identity, including her real name, date of birth and the exact date on which the scene was filmed, will be recorded somewhere by the production company that made this film. The US porn industry operates under a very strict system of regulations, which are known generally as the '2257 regulations', which were introduced in 1988 by the Child Protection and Obscenity Enforcement Act, which was enacted by the US Congress in the wake of the Traci Lords scandal. Under these regulations, porn producers are required to keep detailed records of all performers and productions and all such videos, at least on their original release, include an on-screen compliance notice at the start of the film, much as mainstream films display a certification notice, although this is commonly lost when films are cut up into individual scenes and short-clips for posting onto tube sites.
To be clear, the scene itself is one that many people will quite rightly find distasteful and rather disturbing as it does feature a simulated sexual assault early in the film. Whether it goes to show a simulated rape, as Platell claims, is for me an open question – to be honest I stuck with the film long enough to grab the screen shots and get a sense of the direction in which it was heading and then skipped to the last 30 seconds or so to check whether there was anything at the end of the scene that might help identify either the original film or the actress.
What we can be certain of, however, is that at some point during the video, the overall tone of the scene will have shifted from its simulated non-consensual beginnings to become a consensual scene, albeit one in which the male performer (Stefano) takes the dominant role. Why? Because that's how rape fantasies work. It's not the initial coercion or violence that people who go in for rape fantasies get off on, it the idea that once the female performer's apparent initial resistance has been overcome they become a willing, if submissive, participant in the action that follows and as such the question of whether or not this scene amounts to simulated rape will hinge on exactly when that switch occurred, i.e. either or after penetration, and on whether you choose to define rape in strict legal terms or take a broader view in which the initial [simulated] use of coercion overrides any other considerations.
What the scene isn't, however, is child pornography, not by any stretch of the imagination and certainly not within the terms of the law, even after allowing for the fact that this does permit prosecutions to be mounted on the basis that a performer merely appears to under 18, irrespective of their actual age.
Had Platell and the Daily Mail not been quite so intent on shoe-horning anything and everything their ill-conceived fishing expedition turned up into a preconceived child porn narrative designed to cash-in  on the recent publicity surrounding the conviction of Stuart Hazell in order to pimp their ongoing 'campaign' for opt-in network level porn blocking then they might well have noticed that their star 'exhibit' pushes a pretty unpleasant and pernicious rape myth that many would consider to be fully deserving of public condemnation in the strongest possible terms.
But that particular boat has sailed leaving Platell and the Mail in the rather embarrassing situation of having cried wolf, at some considerable length, over a 12-13 year old legal, commercially released, porn movie.
At some point, one would expect that the Mail will have to admit this to its readers and, at the very least, retract the section of the article that relates to this specific video although, as this is the Daily Mail we're talking about we can fully expect them to delay any such admission for a long as humanly possible in the hope that most of its readers will have forgotten what the original article was about by the time any kind of 'Oops, false alarm' notice sees the light of day – and, of course, any such notice will be couched in the most weaselling terms possible in order to convey the impression that, above all else, it wasn't really the Mail's fault that they fed its readers a great steaming pile of overwrought bullshit.
No Daily Mail exposé is, of course, ever complete without a foray into abject hypocrisy and for this particular article that comes in the form of year another misleading journey in the realms of 'proof by anecdote' and online porn statistics:
Research carried out for EU Kids Online shows that in the UK, 24 per cent of 9-16 year-olds say they have seen sexual images in the past 12 months — 11 per cent of them online and five per cent on their mobile phones.
Concerned parents might wish to note that this same research shows that 7% of children and young people aged 9-16 reported have seen sexual images in newspapers and magazine, which is more than any single online source other than pop-up advertising – more than video hosting sites like Youtube (5%), more than adult websites and porn tubes (4%) and more than twice as many than saw sexual images on social networking sites (3%).
In fact, before you give any credence at all to the Daily Mail's stance on child pornography, it's as well to remember that this the same newspaper that brought you 'creepshots' of underage girls (with photos), the 'womanly curves' of 14-year-old Elle Fanning, and an invitation to see for yourself whether or not a school in Nailsea was justified and banning female pupils from wearing a particular brand of 'too tight' trousers by way of gawping at the arse of a 14-year-old schoolgirl.