Yesterday I provided what I believe to be conclusive evidence that a 'child porn' video that Amanda Platell claims to have viewed as 'research' for an article published online by the Daily Mail on 24th May 2012 and as a double-page spread (pp18-19) in the print edition of the newspaper on 25th May under the headline –
"My journey into the hell that is internet child porn: We asked AMANDA PLATELL to view the websites that twisted the mind of little Tia's killer"
– is in fact a scene from legally produced and marketed commercial porn video that was originally released sometime between 1997 and 2002 in which the male performer, Michael Stefano, is a very well known figure in the US adult entertainment industry with over 1,000 film credits to his name as either an actor or director.
That article did, however, leave one or two loose ends to be tied up, specifically the original title of the film from which the scene was taken and the identify and exact age of the female performer in the video, pictured here in a screenshot taken around one and half minutes into the scene, before any actual sexual activity is depicted: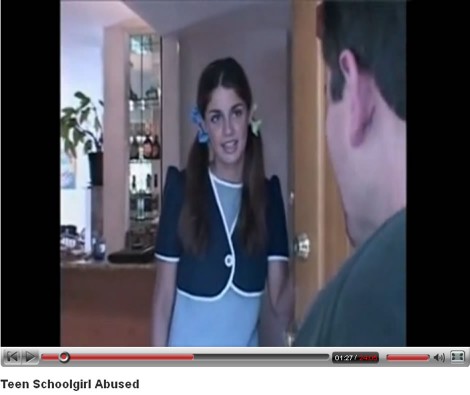 This is the young woman that Platell describes in her article as 'a sweet-looking girl in her early teens' when it seems pretty obvious from this image that she is, in fact, a young women in either her late teens or early 20s who has been dressed to appear somewhat younger than her actual age, although the video does include a scene in which she states on camera, and in character, that she (the character) is 18 years old, a detail that Platell chose not to mention in her article.
Well, that was yesterday. Today we tie up those pesky loose ends.
The scene above comes from a DVD released commercially on 3rd May 2002 under the title 'Extreme Teen 17'.
The production date for the video is given online as having been 2001 although, as I explained yesterday, a record of the exact date on which this scene was filmed will be held by the original production company, Tom Byron Productions, and original distributor, Extreme Associates.
This is the front cover for the original DVD, and despite the poor quality of the image (and the bits I've had to censor), it is clear that the young women shown in the background on the left hand side of the cover (inside the dotted lines) is the same young woman that appears in the screenshot from the video.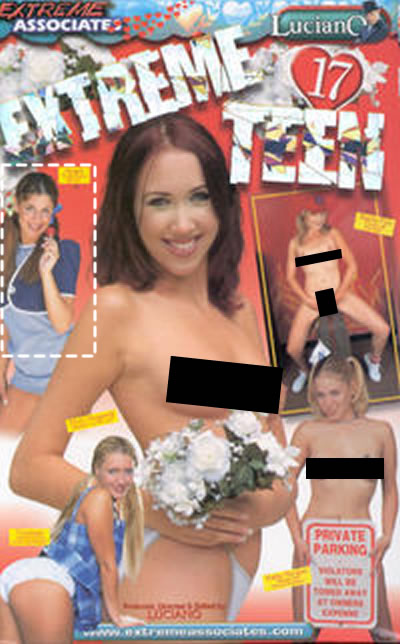 If you've read yesterday's article then you'll also note from the logo on the top right of the cover that male performer in this film, Michael Stefano, is billed as 'Luciano', as I suggested was likely to be the case.
As regards proof that this indeed the video that Platell watched and vividly described in her article, this is her full description of the scene:
It starts with a sweet-looking girl in her early teens, walking home in her school uniform: long white socks, short skirt and, as we discover later, pristine white cotton underwear.

It's a stilted performance. But while the girl is clearly acting a role, the fear in her face appears to be all too real.

A man is watching her in a car parked outside her house. His accent is a peculiar hybrid of British and American. We learn he's been stalking the girl for weeks. He knows when she gets home from school that she is alone for an hour before her parents arrive back from work.

He tricks his way into her home and within minutes is violating her, before forcing her to perform a sex act on him. Then he rapes her, in every possible position, all captured in close-up. 'No one has to get hurt,' he says to the child, 'if you do what I say.' He tells her she's 'secretly enjoying it'.

His other repeated refrain is: 'Don't you tell a soul or I'll come back and hurt you.' And hurt her he does. Not forgetting his final phrase: 'This is our secret.'
And this is a partial description of the scene which appears in this video from a review that was sent to the Internet Adult Film Database in August 2002 from which I've omitted only the description of the actual sex acts depicted in the scene, which is a little more 'vivid' than Platell's account, although I will note that the scene features only oral and vaginal intercourse and that if she thinks the latter runs to 'every position possible' then she's not got much of an imagination – the reviews I've read note just three positions; missionary, cowgirl & reverse cowgirl.
Scene Five: Angel and Mike Long [This is another of Stefano's aliases – U.]

Angel is slim brunette with small breasts and an olive complexion. She has big, green eyes and looks to be no older than 20. Mike fakes a car wreck injury to gain entry into her house. He uses the phone then asks for some water. He then grabs her when she turns her back and holds her arms down. He tells her that she will do what she wants.

…

He threatens her if she should ever tell anyone of what happened, then he leaves.
You'll also have noticed that we now have a name – Angel – and via IAFD we also have a date of birth (1st August 1982) and a list of 48 films in which she appears, all but three of which have a production date of either 2001 or 2002 – the three DVDs released outside this date range (in 2003 and 2006) are both compilations that reuse scenes from earlier films, as were two of the DVD's released in 2002.
'Angel' is, of course a stage name but in case any doubt remains as to whether or not I've identified the correct performer, this next image shows Angel as she appears in two of her other films: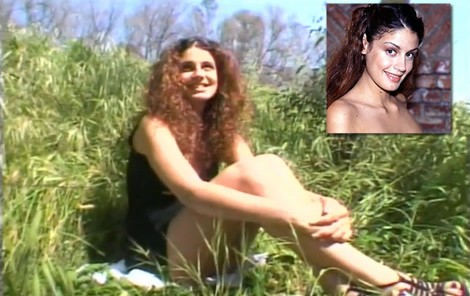 The large image comes from a 2002 film with the title 'There's Something About Jack 19' in which she appears in a scene with Jack Napier; and if I point out that Jack is African-American then you shouldn't have too many problems in figuring out exactly what the 'something' about him is or why that something spawned a total of 37 sequels to the original 'There's Something About Jack' between 1999 and 2005.
As for the inset image, that's a publicity shot used in conjunction with three DVDs released by Kick Ass Pictures with 2001 production dates and one of the 2006 compilations (also by Kick Ass Pictures), which I've included to give a clearer idea of her actual appearance when not 'dressing down' at around the time she also appeared in 'Extreme Teen 17'.
Angel was therefore at least 18, and quite possibly 19 when she filmed the scene which Platell misidentified in her article as child pornography.
With that, I think it's now abundantly clear that the Daily Mail should, at the very least, retract the section of Platell's article that describes this particular video and that its owes the readers of both its print and online editions an apology for having published inaccurate and misleading information.